Career & Tech. Ed / Visual Arts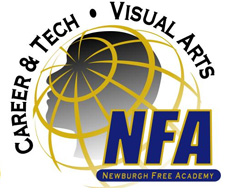 PATHWAY PROGRAMS AT NFA MAIN AND NFA NORTH




Notes on choosing your Pathway Program
The Newburgh Free Academy Career Pathway program's emphasis is on developing workplace skills and academic rigor that enables our students to become better qualified to compete for a career of their choosing. Our career courses allow students to discover their talents, skills, and abilities and then chart an appropriate path toward career choices to produce a more informed, satisfied, and productive workforce.

Students will be required by 10th grade to lock in their Pathway course of study. Each Pathway program is a course of study that leads to a special designation on the diploma upon graduation. Additionally, the description of the courses listed for each Pathway must be taken sequentially as they are specific to the New York State approved national CTE assessment.
Department Vision
The Newburgh Free Academy Career Pathway programs will prepare all students to be life-long learners who can adapt to a changing world. Our graduates will be ready to transition to a career or college.
Department Mission
The mission of the Visual Arts and Career and Technical Education program is to cultivate the potential in our students by integrating rigorous classroom instruction with relevant, work-based experiences that inspire, guide and empower them for post-secondary college and careers. Our CTE program will bridge the academic, employability and technical skills that prepare our students for leadership roles in the working world.