Summer Meals For Kids and Teens

Free Breakfast and Lunch
Monday - Friday, July 2nd - August 31st
Closed July 4, 2018
| LOCATION | ADDRESS | MEAL | TIME |
| --- | --- | --- | --- |
| Church of Unity Holy Trinity | 44 Chambers Street, Newburgh, NY 12550 | LUNCH | 11 am-1pm |
| Center for Hope | 206-210 Broadway, Newburgh, NY 12550 | LUNCH | 11:30 am-1:30 pm |
| Newburgh Free Library | 124 Grand Street, Newburgh, NY 12550 | LUNCH | 10:30 am-1:30 pm |
| City of Newburgh Pool | Robinson Ave & Washington Street, Newburgh, NY 12550 | LUNCH | 10:30 am-1:30 pm |
| Mullins Apartments | 40 Walsh Road, Newburgh, NY 12550 | LUNCH | 11:30 am-1:30 pm |
| Lake Street Apartment Complex | 311-398 Lake Drive, Newburgh, NY 12550 | LUNCH | 11 am-1 pm |
| Vails Gate School | 400 Old Forge Hill Road, New Windsor, NY 12550 | LUNCH | 11 am-12 pm |
| South Middle School | 33-63 Monument Street, Newburgh, NY 12550 | LUNCH | 12:15pm-1:15 pm |
| Salvation Army | 234 Van Ness Street, Newburgh, NY 12550 | LUNCH AND BREAKFAST | 8:00-8:30am & 12:00-12:30 pm |
Open to all children 18 and younger. No enrollment, no cost!
Download Flyer, English and Spanish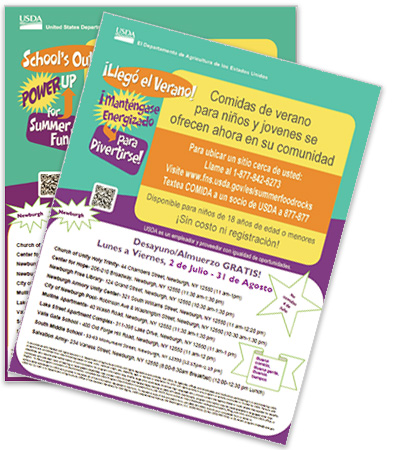 TEACHERS: Are you and your students doing something great? Please contact your Communication Strategist. We'd love to attend or post your pictures and recap to highlight the amazing accomplishments throughout our district! Grades PreK-5 Angela Wise (angela.wise@necsd.net) and Grades 6-12 Cassie Sklarz (cassie.sklarz@necsd.net).