NOTICE: This post is over 180 days old. This information may be outdated if you're looking for new or upcoming information.
Fostertown Students Partner with Scholastic for Mock Election
Second grade students in Dana McDonough's classes were selected out of students from across the United States to take part in the Scholastic News Student Vote, a mock election that allow students in grades K-12 across the country to cast their votes for Presidents of the United States. The voting is done online and through paper ballots.
Since 1940, the outcomes of the Scholastic Student Vote have mirrored the outcomes of every general election except in the years 1948 and 1960. Approximately 153,000 students in all 50 states and the District of Columbia casted their ballots in the 2016 Scholastic News Student Vote.
According to McDonough, students participated in lessons about the responsibilities of voting, researching candidates, and read literature about the process given by Scholastic so they were well-versed on the candidates. Through the lessons, students realized it is important to know the issues of each candidate.
"By educating the children at the tender age of 6, 7, or 8, it makes them realize the importance of being an American citizen and how important it is for each person to cast their vote. We talked about the fight that African Americans and women had to earn this right so they are sitting here having this right and the responsibility that the each have to be able to vote. I think when they are of the age to vote at 18 I'm hoping that they will look back and realize that the learned their civic responsibilities right here in second grade."
Students were interviewed by Scholastic and asked about important issues regarding the candidates such as what should be the next president's priority. "I would tell them to focus on healthcare and education so other kids can learn stuff that they haven't learned before and so that other kids can be healthy and save themselves from cancer and all other diseases" shared Ryder Tuttle.
Students were asked what advice they would give the next president. "Be a strong leader, brave and always have courage for what you do," Ava Encarnacion.
The winner of the Scholastic News mock election was recently announced by Scholastic. Democratic presidential candidate Hillary Clinton has been named the winner, with 52% of the student vote while Republican candidate Donald Trump received 35%.
ATTENTION: Are your scholars or colleagues doing something great? Please contact the district Communications Team at communications@necsd.net. We'd love to visit your class or event and/or post your pictures and recap to highlight the amazing accomplishments throughout our district!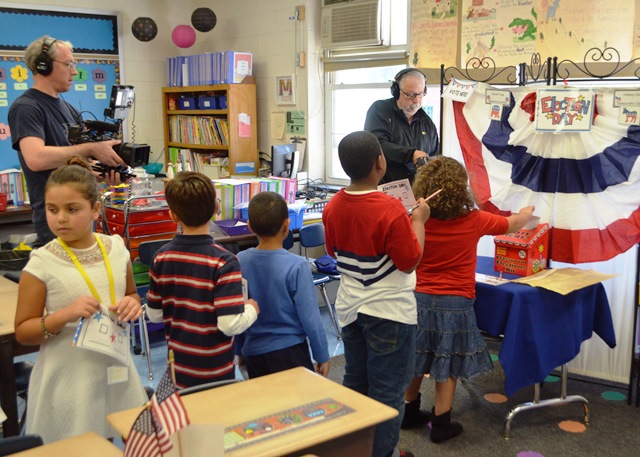 Date: 2017-02-01 11:48:37 AM