NOTICE: This post is over 180 days old. This information may be outdated if you're looking for new or upcoming information.
The Before Broadway Drama Co. Presents: A Connecticut Yankee in King Arthur's Court
The Before Broadway Drama Co. presents A Connecticut Yankee in King Arthur's Court on May 18th at 7pm and 19th at 2pm in the NFA Main Black Box Theatre, 201 Fullerton Ave. Tickets are $5 for students and seniors and $7 for adults.
A Connecticut Yankee in King Arthur's Court is adapted from the classic by Mark Twain by Tim Kelly and performed with permission by Pioneer Drama Service.
Hank Morgan, played by senior Armani Balaguer, is a teenager who gets knocked out working on his school's stage crew, and finds himself transported back to the thrilling days of King Arthur (Steven Baltsas), Queen Guenevere (Therese Fischer) and the Knights and Ladies of the Round Table. Hank, who has been studying astronomy, predicts an eclipse of the sun and is hailed a great wizard. He is knighted 'Sir Boss' and sets about modernizing Camelot, complete with telephones, bicycles, and T-shirts. But the king's wicked half-sister, Morgan Le Fay, played by Angelique Kortright, plots against Camelot, planning an invasion with her own army. 'Sir Boss' overcomes the evil plot and finds his way back to Hartford, Connecticut, in this fun adventure for all ages. Directed by Angelique Kortright ('18) and Annie Reid ('19) and Stage Manager Daneen Ramondino ('20).
Starring Armani Balaguer, Conner Leggett, Ashley Riboul, Chelsea Ortiz, Olivia Fava, Grace Figueroa, Marc Santos, Nicholas Kunda, Katherine Vidal, Kamora Millan, Steven Baltsas, Therese Fischer, Spencer Conti, Angelique Kortright, Raven Ullah, Kayla Moresco, Da'nayah Christmas, Scarlen Reyes, Olivia Gloffke, Olivia Montalvo, Delrecia Grant, Taniaa Williams, Samantha Rodriguez, Nigel Comey, Mark Crook, Tegan Maher, and Julianna Martinez.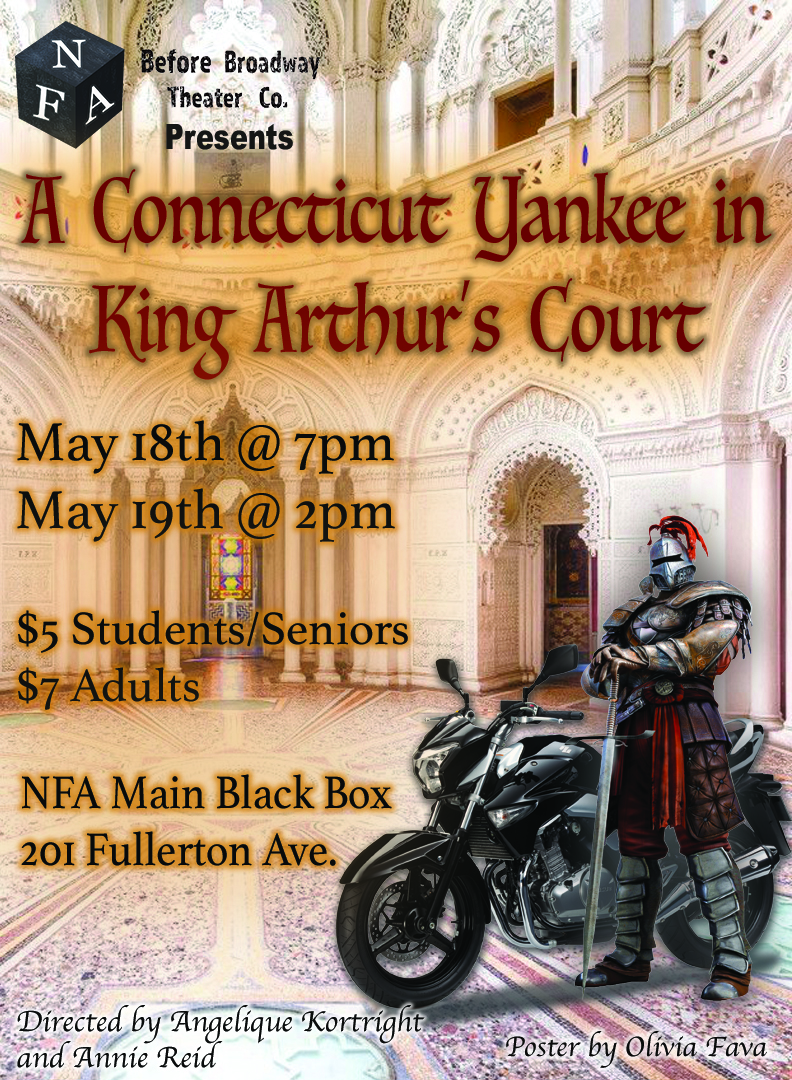 ATTENTION: Are your scholars or colleagues doing something great? Please contact the district Communications Team at communications@necsd.net. We'd love to visit your class or event and/or post your pictures and recap to highlight the amazing accomplishments throughout our district!
Date: 2018-05-08 07:31:15 AM