NOTICE: This post is over 180 days old. This information may be outdated if you're looking for new or upcoming information.
NECSD Announces Class of 2023 Valedictorian and Salutatorian

Aarav Shah, Valedictorian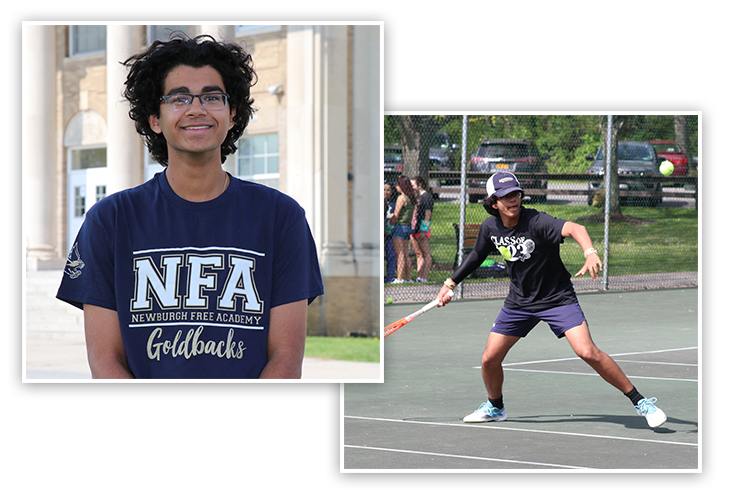 Aarav Shah was named the NFA Class of 2023 Valedictorian.
Next year, Aarav plans to attend the University of Michigan to study Biomedical Engineering. Prior to attending Newburgh Free Academy Main Campus, Aarav attended Horizons on the Hudson Elementary School and Heritage Middle School.
While at Newburgh Free Academy Main Campus, Aarav served as the Key Club Vice-President. He was a member of NFA Debate since the 9th grade where he qualified for Hudson Valley Districts in 11th grade and reached the quarterfinals of the Pennsbury Falcon Invitational tournament.
As a member of the NFA Varsity Tennis team since 7th grade, Aarav participated in 1st singles and served as team captain for both 11th and 12th grade. He finished in second place in both 2019 and 2021 and finished third in 2022 in the Section 9 Boys Tennis tournament. He also qualified for the NYSPHSAA Boys Tennis Championships in 2019 and 2022.
Aarav has played the clarinet since he was in third grade and was elected Vice President of the NFA Wind Ensemble in the 12th grade.
He was the Co-President of the Science Honors Society in 11th grade.
Aarav volunteers at Montefiore St. Luke's Cornwall Hospital and also coaches younger athletes in tennis for the Newburgh Goldback Tennis Club.
Aarav attended the Brown University biomedical engineering summer program where he researched and assisted with the development of a synthetic polymer replacement graft for a hypothetical patient with heart disease. He also attended the Regeneron PMPD summer program where he learned how Regeneron scientists and engineers manufacture drugs and medicine.
When asked who has had a positive influence on his life, Aarav responded, "I credit my parents for always motivating me to reach all my goals throughout high school". He continued, "My high school physics teacher in 11th and 12th grade, Mr. Kenny, was a great source of positivity and taught me valuable lessons in academics and life".
When asked what advice he has for younger Goldbacks, Aarav said, "Don't compare yourself to other people. Everyone is unique. High school will fly by before you know it and you do not want to waste any time trying to act like someone else".
Aarav hopes to one day be a physician.


Jillian Brand, Salutatorian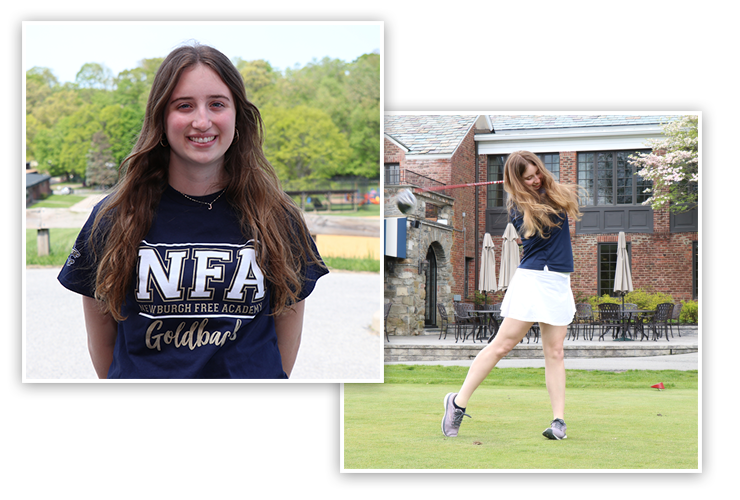 Jillian Brand was named the NFA Class of 2023 Salutatorian.
Next year, Jillian plans to study Mathematical Sciences at Clemson University. Prior to attending Newburgh Free Academy North Campus, Jillian attended Heritage Middle School.
While at Newburgh Free Academy, Jillian was a member of the National Honor Society, the Spanish Honor Society, and the New York State Science Honor Society.
Jillian is on the NFA Varsity Girls Golf team. Out of school, Jillian has performed dance at Lincoln Center and Orange County Dance Expo amongst other venues, and serves as an assistant to her dance teachers.
Jillian is an Ambassador Girl Scout and recently completed her Girl Scout Silver Award when she taught preschool students about global warming. Currently, she is working toward her Girl Scout Gold Award by planning the building of a greenhouse to bring fresh produce to the Newburgh community.
She also tutors younger students during her free time.
When asked who has had a positive influence on her life, Jillian answered, "I would like to thank Mr. Williams for constantly believing in me and teaching me there's so much more to the world than what we just learn in the classroom. Also, I would like to thank Mr. Keane for helping me realize my true passion is mathematics. Lastly, I would like to thank my parents for all the support they've shown to me."
When asked what advice she has for younger Goldbacks, Jillian said, "Find what you truly enjoy and put all your energy into that one thing because that is what will make you inexplicably happy."
Jillian's goal is to one day be an Investment Actuary.
ATTENTION: Are your scholars or colleagues doing something great? Please contact the district Communications Team at communications@necsd.net. We'd love to visit your class or event and/or post your pictures and recap to highlight the amazing accomplishments throughout our district!
Date: 2023-05-15 04:08:25 AM