WE NEED YOUR HELP!
WE NEED YOUR HELP!
Beginning May 1st through May 24th, FACE (Family and Community Engagement) in participation with Kiwanis Club is hosting a baby shower for infants in the maternity unit. FACE will be delivering boxes to each school building with the hopes of collecting NEW items. Please help give our newborns and their families the best start in life by donating some of the following items:
DIAPERS & WIPES
CAR SEATS
BABY BLANKETS
CLOTHING (SIZE 0-9 MONTHS)
INFANT TOYS
BOOKS
BATHING ITEMS
BREAST PUMPS
BABY MONITORS
If you have any questions, please reachout to our Parent Coordinators:
WILLIAM MORGAN
wmorgan@necsd.net
845-391-6235
LEEOLA WILLIAMS
lewilliams@necsd.net
845-913-5913
*Please note these items MUST be packaged NEW items and CANNOT be gently used, with the exception of books.*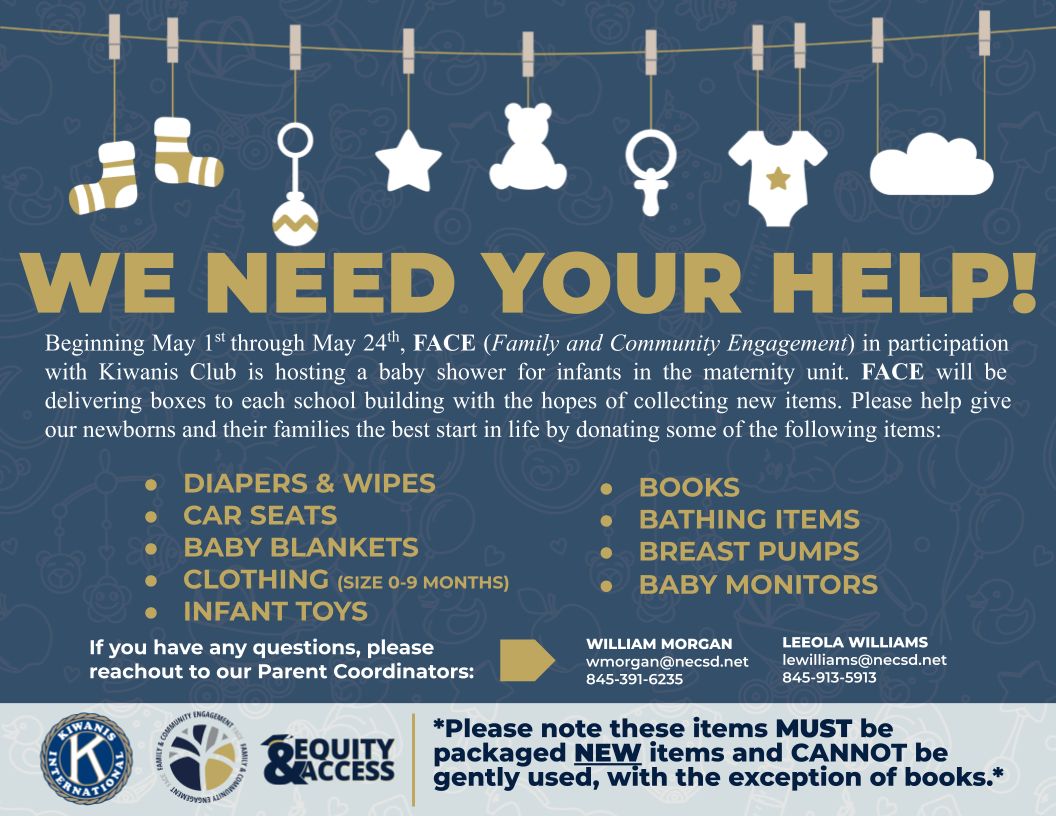 ---
NECESITAMOS TU AYUDA!
Comenzando el 1 de Mayo a través del 24 de Mayo, FACE (Participación de la Familia y la Comunidad) en participación con el Club Kiwanis está organizando una ducha de bebé para bebés en la unidad de maternidad. FACE entregará cajas a cada edificio con la esperanza de recoger nuevos artículos. Por favor, ayude a dar a nuestros recién nacidos y sus familias el mejor comienzo en la vida donando algunos de los siguientes artículos:
LIBROS
ARTÍCULOS DE BAÑO
EXTRACTORES DE LECHE
MONITORES PARA BEBÉS
PAÑALES Y TOALLITAS HÚMEDAS
ASIENTOS PARA AUTOMÓVILES
MANTAS PARA BEBÉS
ROPA (TAMAÑO 0-9 MESES)
JUGUETES INFANTILES
Si tiene alguna pregunta, comuníquese con nuestros Coordinadores de Padres:
WILLIAM MORGAN
wmorgan@necsd.net
845-391-6235
LEEOLA WILLIAMS
lewilliams@necsd.net
845-913-5913
*Tenga en cuenta que estos artículos DEBEN ser artículos NUEVOS empaquetados y NO usados, con la excepción de los libros.*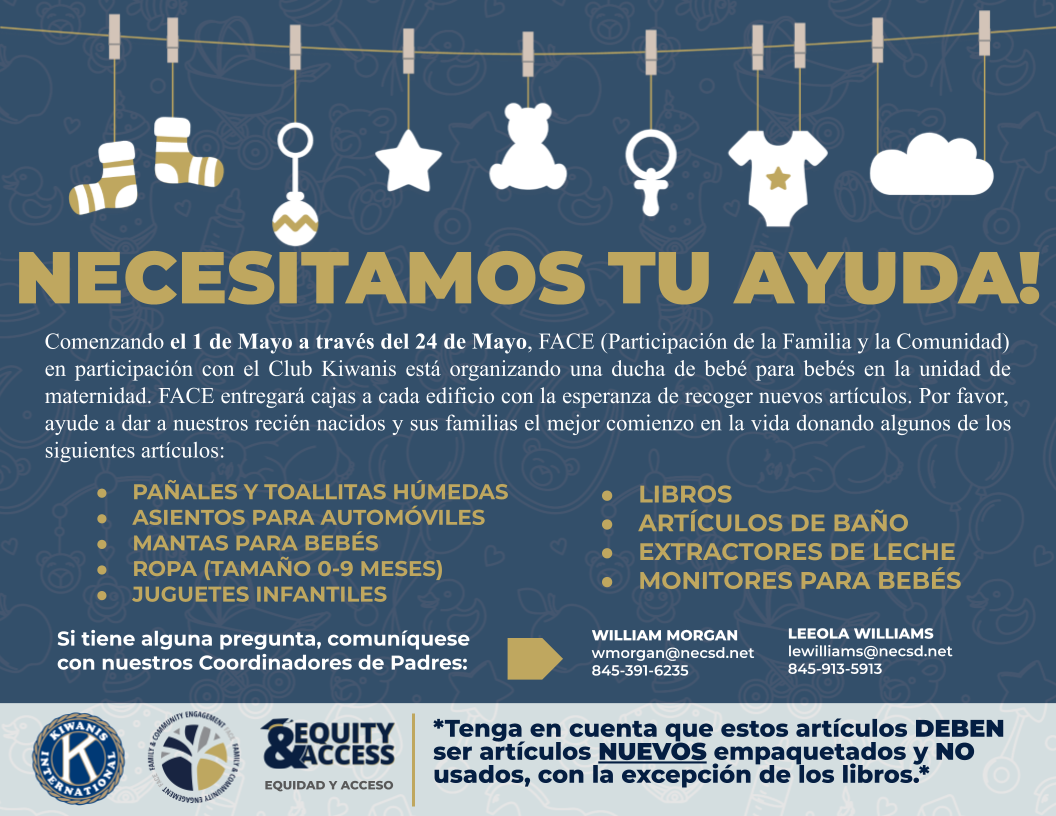 ATTENTION: Are your scholars or colleagues doing something great? Please contact the district Communications Team at communications@necsd.net. We'd love to visit your class or event and/or post your pictures and recap to highlight the amazing accomplishments throughout our district!
Date: 2023-05-01 03:42:03 AM