REMINDER | District Closed Friday, April 21st | Religious Holiday
Please be reminded that the district is closed Friday, April 21st in observance of a religious holiday. All schools and district offices will reopen on Monday, April 24th.
Looking ahead, please be reminded that a proposed change to the district calendar for this school year was approved on April 11, 2023 by the Board of Education. The revision adds Friday, May 26th for Memorial Day as a result of unused emergency days. The district will now be closed that day. Please be reminded of important dates for April and May 2023 below.
Important dates for April & May 2023 include:
Friday, April 21st - District closed - Religious Holiday
Tuesday, May 16th - Half day for students; Superintendent's Conference Day | NECSD Budget Vote and BOE Election
Friday, May 26th - District closed - Memorial Day
Monday, May 29th - District closed - Memorial Day
As a reminder, you can add important school and district dates, including letter days, to your personal calendar by following these instructions.
Looking ahead, please find the full calendars by clicking the links corresponding to the calendar title: 2022-2023 District Calendar | 2023-2024 District Calendar. The district calendar can always be found on the right hand side of the district website NewburghSchools.org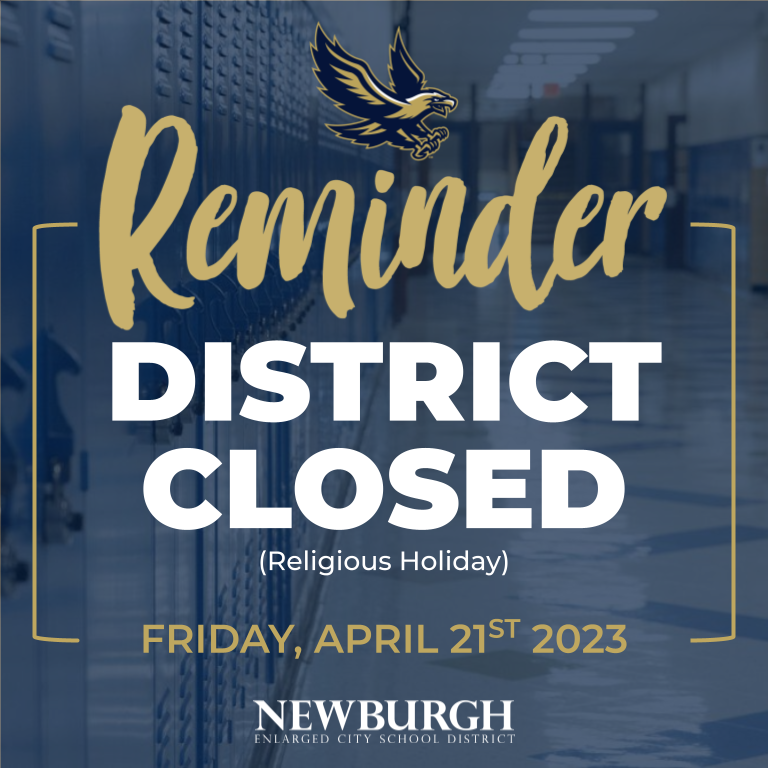 ATTENTION: Are your scholars or colleagues doing something great? Please contact the district Communications Team at communications@necsd.net. We'd love to visit your class or event and/or post your pictures and recap to highlight the amazing accomplishments throughout our district!
Date: 2023-04-20 03:53:08 PM