REGISTER TODAY FOR THE NECSD DIVERSITY RECRUITMENT FAIR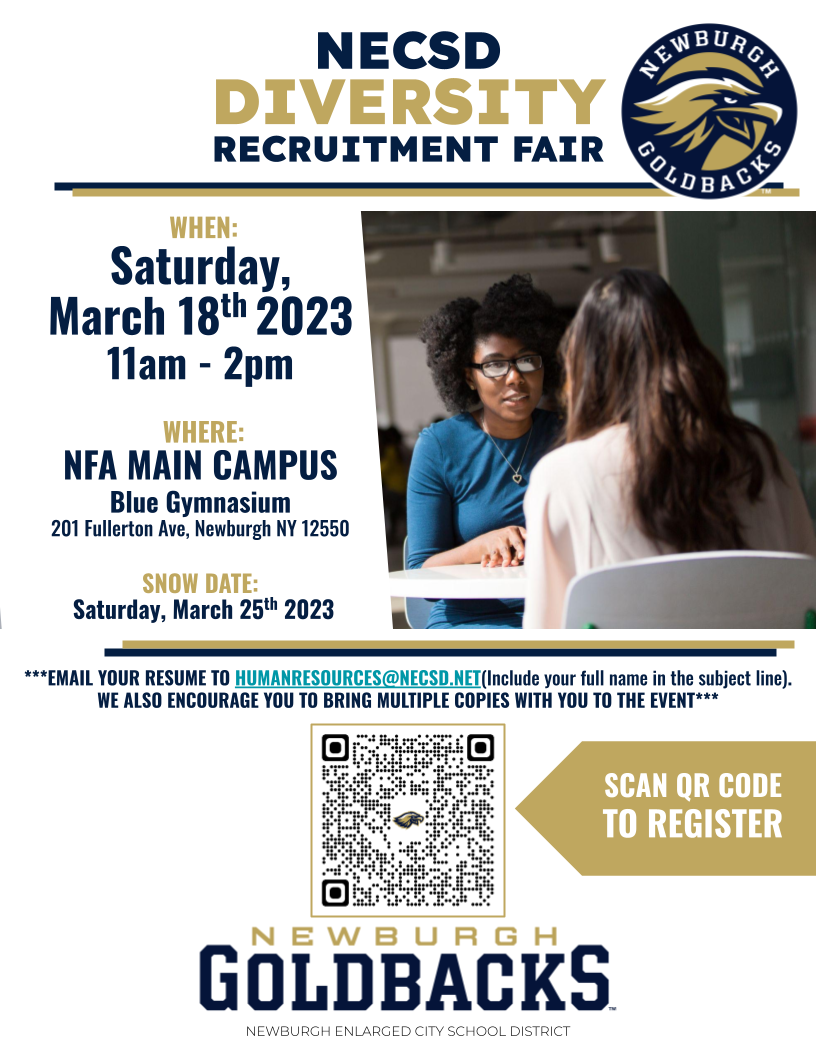 NECSD DIVERSITY RECRUITMENT JOB FAIR
Saturday, March 18th 2023
201 Fullerton Ave, Newburgh NY 12550
Saturday, March 25th 2023
***EMAIL YOUR RESUME TO HUMANRESOURCES@NECSD.NET (Include your full name in the subject line). WE ALSO ENCOURAGE YOU TO BRING MULTIPLE COPIES WITH YOU TO THE EVENT***
CLICK BUTTON TO REGISTER:
Please spread the word to family and friends!
*The goal of the Diversity Recruitment Fair is to increase the pool of candidates that represent our diverse student population. The district then can hire the most qualified candidate for our scholars. Anyone is welcome to attend this event and/or apply to NECSD job opportunities.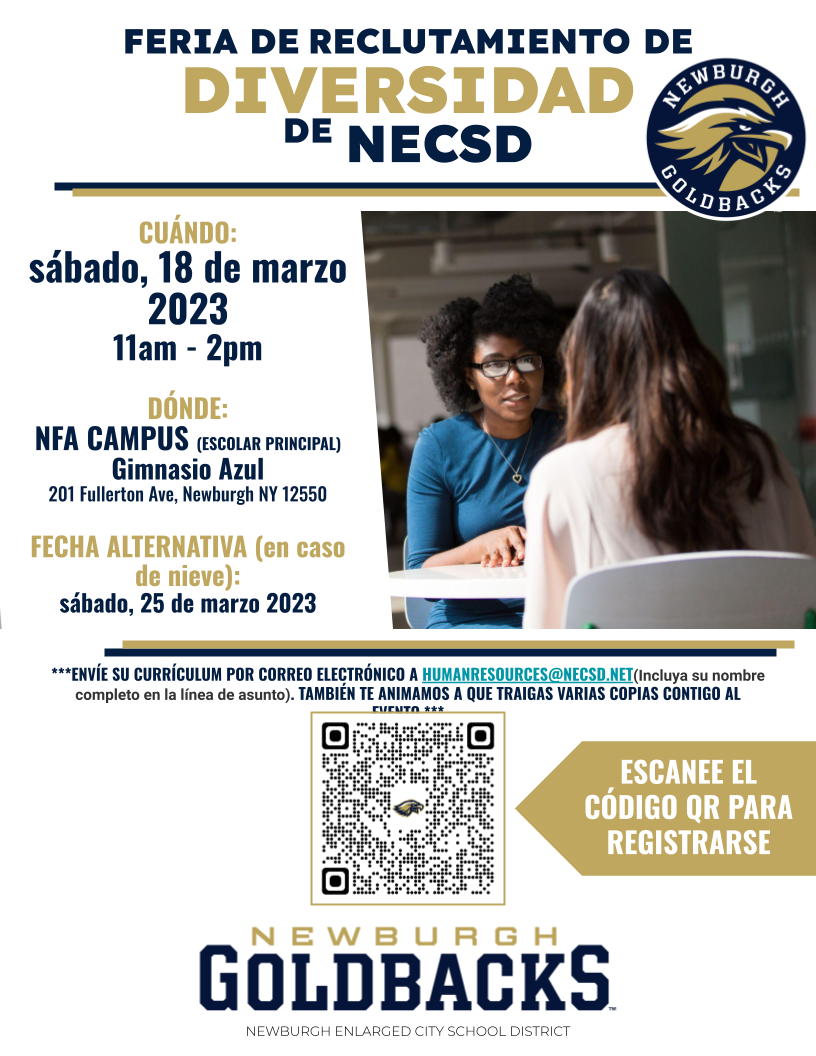 FERIA DE RECLUTAMIENTO DE DIVERSIDAD DE NECSD
NFA CAMPUS (ESCOLAR PRINCIPAL)
201 Fullerton Ave, Newburgh NY 12550
FECHA ALTERNATIVA (en caso de nieve):
***ENVÍE SU CURRÍCULUM POR CORREO ELECTRÓNICO A HUMANRESOURCES@NECSD.NET(Incluya su nombre completo en la línea de asunto. TAMBIÉN TE ANIMAMOS A QUE TRAIGAS VARIAS COPIAS CONTIGO AL EVENTO.*
HAGA CLIC EN EL BOTÓN PARA REGISTRARSE:
*El objetivo de la Feria de Reclutamiento de la Diversidad es aumentar el grupo de candidatos que representan a nuestra diversa población estudiantil. Luego, el distrito puede contratar al candidato más calificado para nuestros estudiantes. Cualquiera es bienvenido a asistir a este evento y/o aplicar a las oportunidades de trabajo de NECSD.
ATTENTION: Are your scholars or colleagues doing something great? Please contact the district Communications Team at communications@necsd.net. We'd love to visit your class or event and/or post your pictures and recap to highlight the amazing accomplishments throughout our district!
Date: 2023-03-01 02:35:05 AM