RESTORATIVE PRACTICES: What Are They and How Do They Function within the Newburgh Enlarged City School District?
WHAT ARE RESTORATIVE PRACTICES?
Restorative Practices (RP) build and strengthen relationships by creating a "Culture of Care" that develops and maintains a sense of belonging among the community. RP also addresses harm done to others by promoting accountability and responsibility. The goal is to build, maintain, and repair relationships so that individuals and communities grow closer together.
HOW DO RESTORATIVE PRACTICES HELP US?
Create a sense of community

Build healthy relationships

Strengthen conflict resolution skills

Improve Sense of Belonging
WHAT ARE CIRCLES?
All those involved sit in a circle and begin a discussion using a talking piece to ensure everyone has an opportunity to be heard and to listen. Circles are powerful because the process promotes equitable and welcoming learning environments. Circles have been used to help build community for thousands of years. Some of the earliest known tribes, across all continents, used Circles to meet and discuss the most important matters in their communities.
3 TIERS OF RESTORATIVE PRACTICES
TIER 3: REPAIR CIRCLES

REPAIR HARM & REINTEGRATE

Repair relationships using conferencing and welcome back with a fresh start

TIER 2: MEDIATION CIRCLES

MEDIATE CONFLICT

Maintain Relationships when minor conflict occurs

TIER 1: COMMUNITY BUILDING CIRCLES

BUILD COMMUNITY

Build and strengthen Relationships

THE 5 R's of RP

RELATIONSHIPS

Central to building an inclusive community

Build systems that develop & strengthen healthy relationships

RESPECT

Provide a voice for the person that has been harmed

Improve social behavior

RESPONSIBILITY

Emphasis placed on the

harm

rather than the

offense

Understand the impact of the harm

RESTORATION

Collaborative problem solving

Empowers change & growth

REINTEGRATION

Person who has done the harm is welcomed back into the environment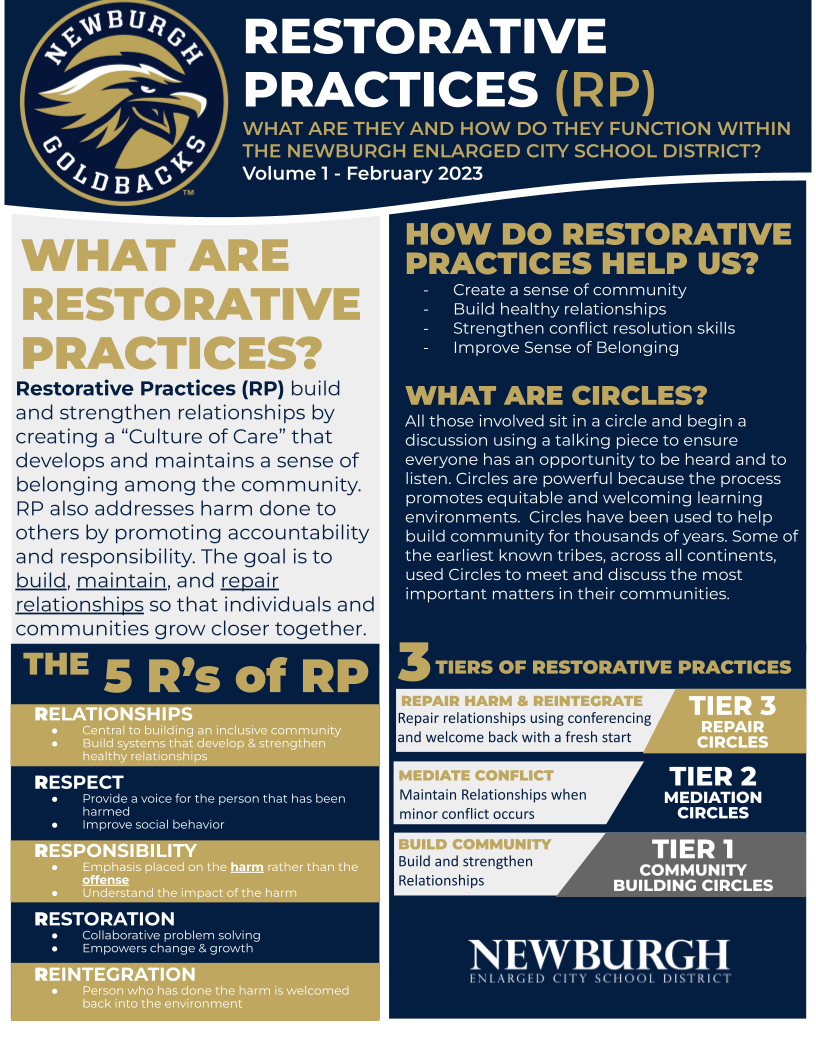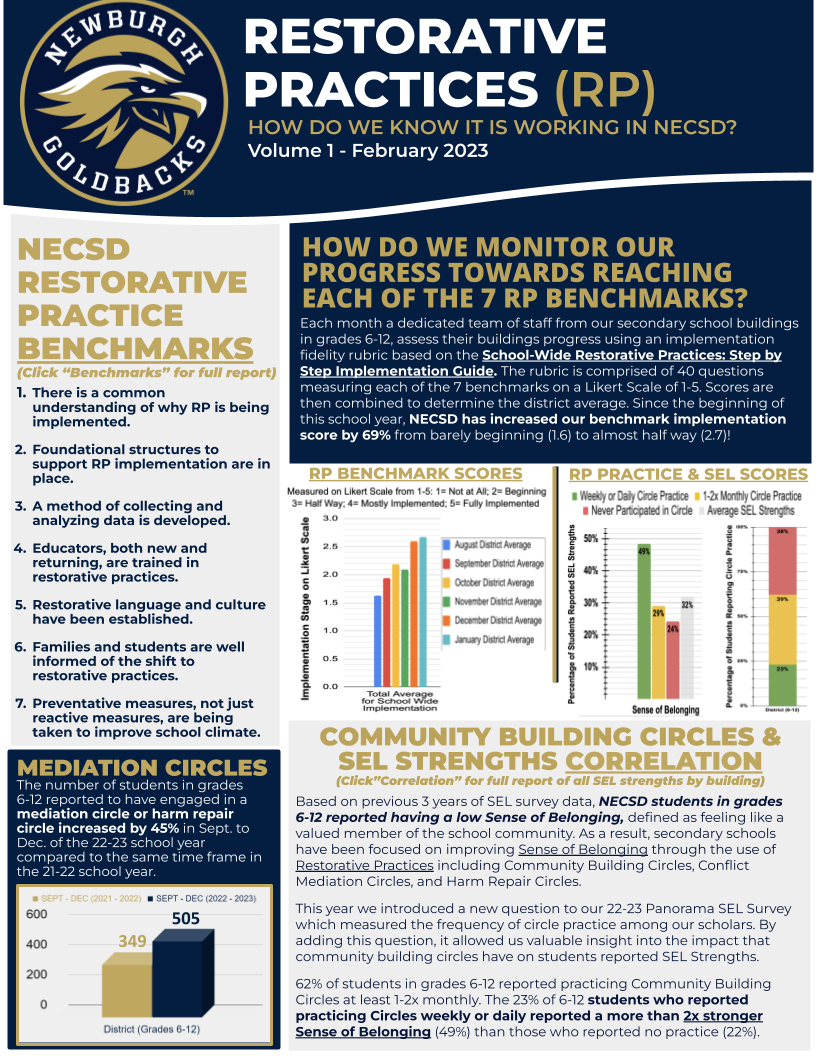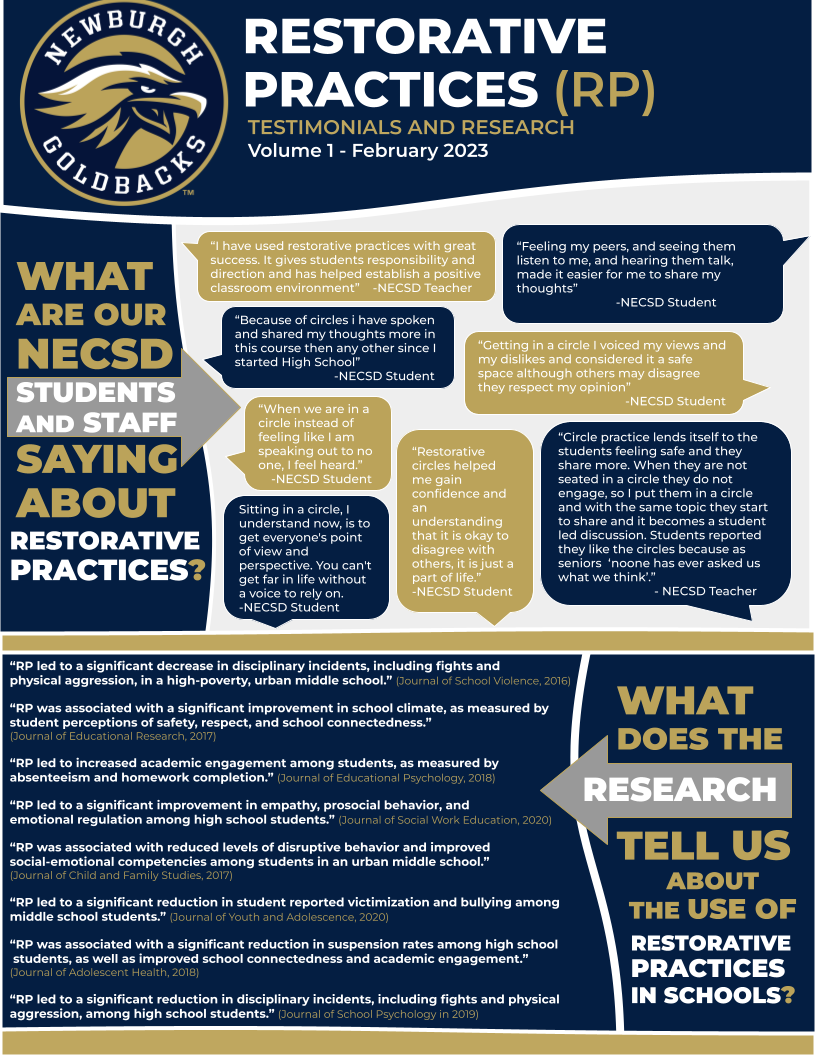 For more information contact:
Michael Regan, LCSW
Director of Pupil Personnel Services
mregan@necsd.net
LINK TO RESTORATIVE PRACTICE FEBRUARY 2023 NEWSLETTER
ATTENTION: Are your scholars or colleagues doing something great? Please contact the district Communications Team at communications@necsd.net. We'd love to visit your class or event and/or post your pictures and recap to highlight the amazing accomplishments throughout our district!
Date: 2023-02-14 03:13:14 AM