PSA | Free Bus Fare Program in Newburgh
Working in tandem with county partners, Senator James Skoufis has secured funding to create a free Transit Orange bus fare program to encourage connectivity and local commerce in Newburgh.
Free fares will begin on December 15 in time for the holiday shopping rush, and will include all of the
Newburgh Area Transit
services, including required paratransit services. No ID/proof of residence will be necessary to board -- free bus fares will be available to anyone looking for a ride during the program period, which ends April 1, 2023. The county estimates roughly 30,000 trips will be covered as a result of this funding.
Free transportation will provide access and opportunity to nutritious food, jobs, worship, and recreation that may otherwise be limited by personal finances. More information and the bus schedule can be found at: https://www.ridetransitorange.com/newburgh
To kick off the program, Senator Skoufis hosted a press announcement on Thursday, December 15 at the intersection of Broadway & Liberty.

The program is in a pilot phase.
A pilot program, also called a feasibility study or experimental trial, is a small-scale, short-term experiment that helps an organization learn how a large-scale project might work in practice. A good pilot program provides a platform for the organization to test logistics, prove value and reveal deficiencies before spending a significant amount of time, energy or money on a large-scale project. The more people who take advantage this program will improve the chances of the program being extended for a longer duration of time.
Routes included in the program are:
Broadway West - Route 17K from the Broadway & Liberty St. intersection to shopping destinations along 17K and Route 300 in the Town of Newburgh, such as Target and Adam's Fairacre Farms
Crosstown North - Stretching between Montefiore St. Luke's and Cornwall Hospitals
Northside - Including stops at Mt. Saint Mary College and Mid Valley Mall
Southside - Including apartment complexes and residential areas south of Broadway, and the Newburgh Ferry.
Complete route details and schedules can be found at RideTransitOrange.com/Newburgh.
Trabajando en conjunto con los socios del condado, el Senador James Skoufis ha obtenido fondos para crear un programa gratuito de tarifas de autobús Transit Orange para fomentar la conectividad y el comercio local en Newburgh.
Las tarifas gratuitas comenzarán el 15 de diciembre a tiempo para la fiebre de las compras navideñas e incluirán todos los servicios de tránsito del área de Newburgh, incluidos los servicios de paratránsito requeridos. No se necesitará una identificación/prueba de residencia para abordar: las tarifas de autobús gratuitas estarán disponibles para cualquier persona que busque un viaje durante el período del programa, que finaliza el 1 de abril de 2023. El condado estima que se cubrirán aproximadamente 30,000 viajes como resultado de esta financiación.

El transporte gratuito brindará acceso y oportunidad a alimentos nutritivos, trabajos, culto y recreación que, de otro modo, podrían verse limitados por las finanzas personales. Puede encontrar más información y el horario del autobús en: https://www.ridetransitorange.com/newburgh
Para dar inicio al programa, el Senador Skoufis presentó un anuncio de prensa el jueves 15 de diciembre a las 11:00 am en la intersección de Broadway y Liberty.
El programa se encuentra en una fase piloto. Un programa piloto, también llamado estudio de viabilidad o prueba experimental, es un experimento a pequeña escala y a corto plazo que ayuda a una organización a aprender cómo podría funcionar en la práctica un proyecto a gran escala. Un buen programa piloto proporciona una plataforma para que la organización pruebe la logística, pruebe el valor y revele las deficiencias antes de gastar una cantidad significativa de tiempo, energía o dinero en un proyecto a gran escala. Cuantas más personas se aprovechen de este programa mejorarán los cambios del programa al extenderse por más tiempo.
Las rutas incluidas en el programa son:
Broadway West: ruta 17K desde la intersección de Broadway y Liberty St. hasta destinos de compras a lo largo de 17K y la ruta 300 en la ciudad de Newburgh, como Target y Adam's Fairacre Farms
Crosstown North: se extiende entre los hospitales Montefiore St. Luke's y Cornwall
Northside: incluye paradas en Mt. Saint Mary College y Mid Valley Mall
Southside: incluye complejos de apartamentos y áreas residenciales al sur de Broadway y Newburgh Ferry.
Los detalles completos de la ruta y los horarios se pueden encontrar en RideTransitOrange.com/Newburgh.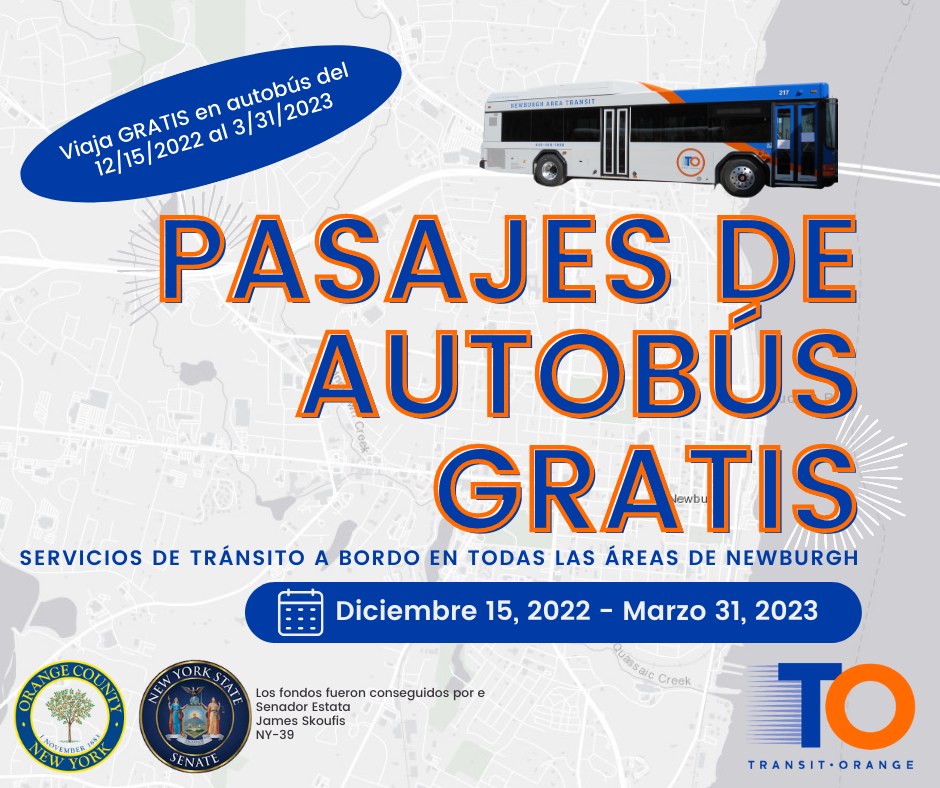 ATTENTION: Are your scholars or colleagues doing something great? Please contact the district Communications Team at communications@necsd.net. We'd love to visit your class or event and/or post your pictures and recap to highlight the amazing accomplishments throughout our district!
Date: 2022-12-16 04:12:03 AM