Community Thanksgiving Resources for Families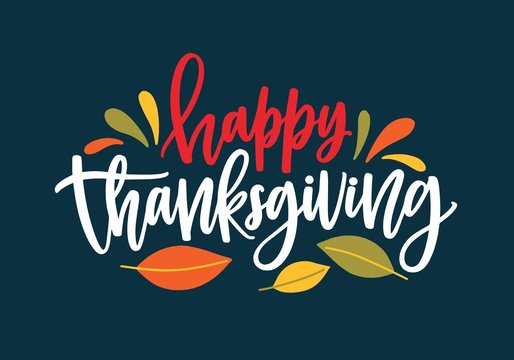 Newburgh Loaves & Fishes - Turkey and Grocery Distribution
November 19, 2022 - 8:30AM-1:00PM
Newburgh Loaves & Fishes, Inc., will hold its annual turkey and grocery distribution on Saturday, November 19th, 8:30AM - 1:00PM at Deacon Jack Seymour Food Pantry, behind Sacred Heart School on Ann St, Newburgh. No pre-registration required. All families in the Newburgh Enlarged City School District are welcome. Please bring a cart and bags to carry the food..
Annual Thanksgiving Giveaway at Newburgh Armory Unity Center
November 21, 2022 - 3PM-7PM
Newburgh Armory will host their Annual Thanksgiving Giveaway at the Newburgh Armory Unity Center on Monday, November 21, 2022 from 3:00pm until 7:00pm. Please use the Larkin Center Entrance at 321 S. William St. Newburgh NY 12550. This will be a first come first served event.
Thanksgiving Community Meal at Desmond Center at MSMC
November 21, 2022 6:00PM - 8:00PM
The Desmond Center at Mount Saint Mary College will be hosting a free community meal on Monday, November 21, 2022 from 6:00pm until 8:00pm. The Desmond Center is located at 330 Powell avenue, Newburgh NY. This event will take place in the Domincan Center Room 110. Join them for a delicious meal and some holiday cheer. Enjoy health food demonstrations led by MSMC Nursing students. Will include traditional thanksgiving meal, kids acitivites, music and is a Dine-In event.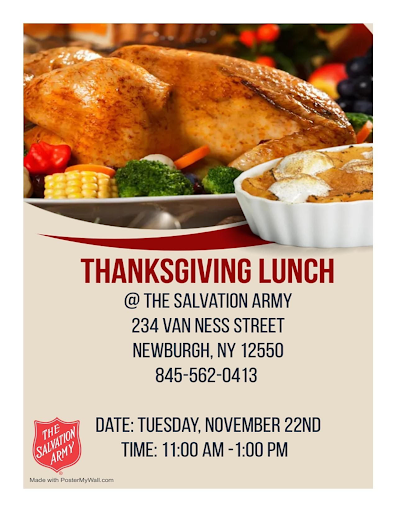 Salvation Army Thanksgiving Lunch
November 22, 2022 6:00PM - 8:00PM
Enjoy a Thanksgiving lunch at the Salvation Army at 234 Van Ness Street in Newburgh NY on Tuesday, November 22, 2022 from 11:00am until 1:00pm. For more information you can call 845-563-0413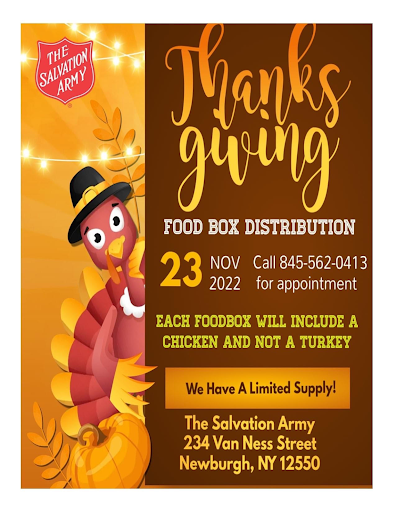 Salvation Army Food Box Distribution
November 23, 2022 by appointment
The food box distribution will take place on Wednesday, November 23, 2022. Please call 845-562-0413 for an appointment. Foodbox will include a chicken and NOT a turkey. There is a limited supply. The Salvation Army is located at 234 Van Ness Street in Newburgh NY
.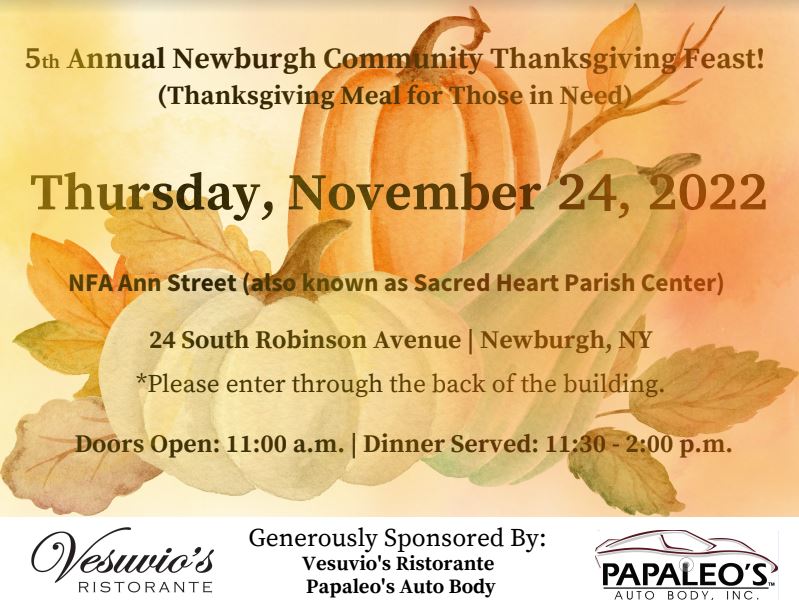 5th Annual Newburgh Community Thanksgiving Feast
November 24, 2022 - Doors open at 11:00am.
The 5th Annual Newburgh Community Thanksgiving Feat (Thanksgiving meal for those in need) will take place on Thursday, November 24, 2022 at the NFA Ann Street/Sacred Heart Parish Center on 24 South Robinson Avenue in Newburgh NY. Please enter through the back of the building. Doors Open at 11:00am, Dinner served 11:30 - 2:00pm. Sponsored by Vesuvio's Ristorante and Papaleo's Auto Body.
.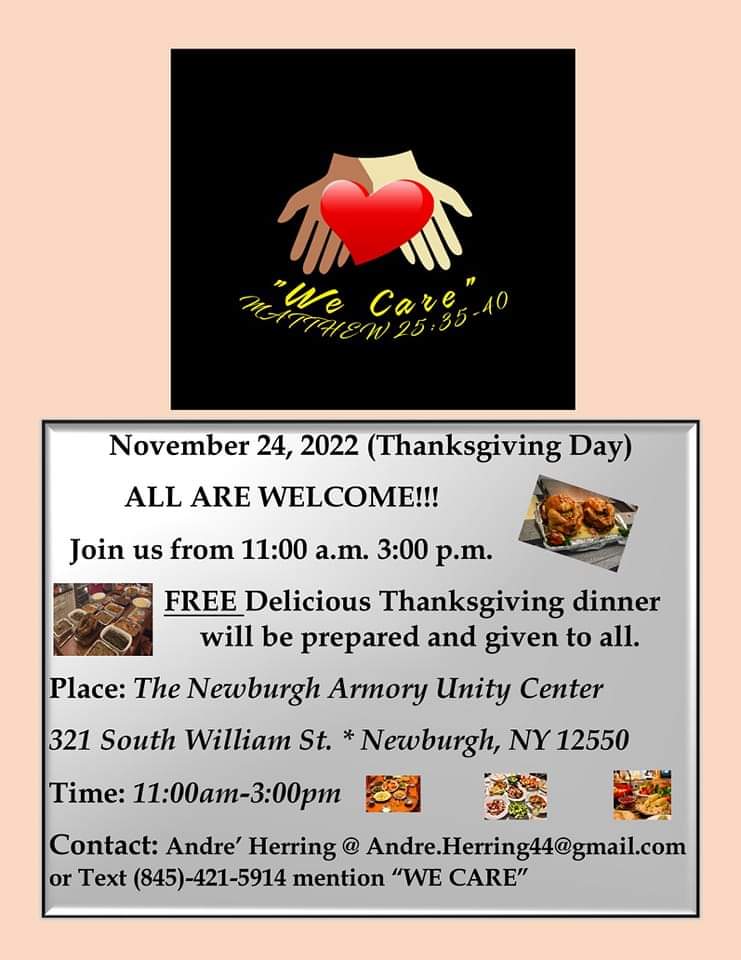 Thanksgiving Dinner at the Newburgh Armory
November 24, 2022 - 11:00am-3:00pm
A free delicious Thanksgiving dinner will be prepared and given to all. It will take place at the Newburgh Armory Unity Center at 321 South William St. in Newburgh NY. If you have questions contact Andre' Herring @
Andre.Herring44@gmail.com
or Text 845-421-5914 and mention "We Care"
ATTENTION: Are your scholars or colleagues doing something great? Please contact the district Communications Team at communications@necsd.net. We'd love to visit your class or event and/or post your pictures and recap to highlight the amazing accomplishments throughout our district!
Date: 2022-11-22 05:58:31 AM