NOTICE: This post is over 180 days old. This information may be outdated if you're looking for new or upcoming information.
DID YOU KNOW?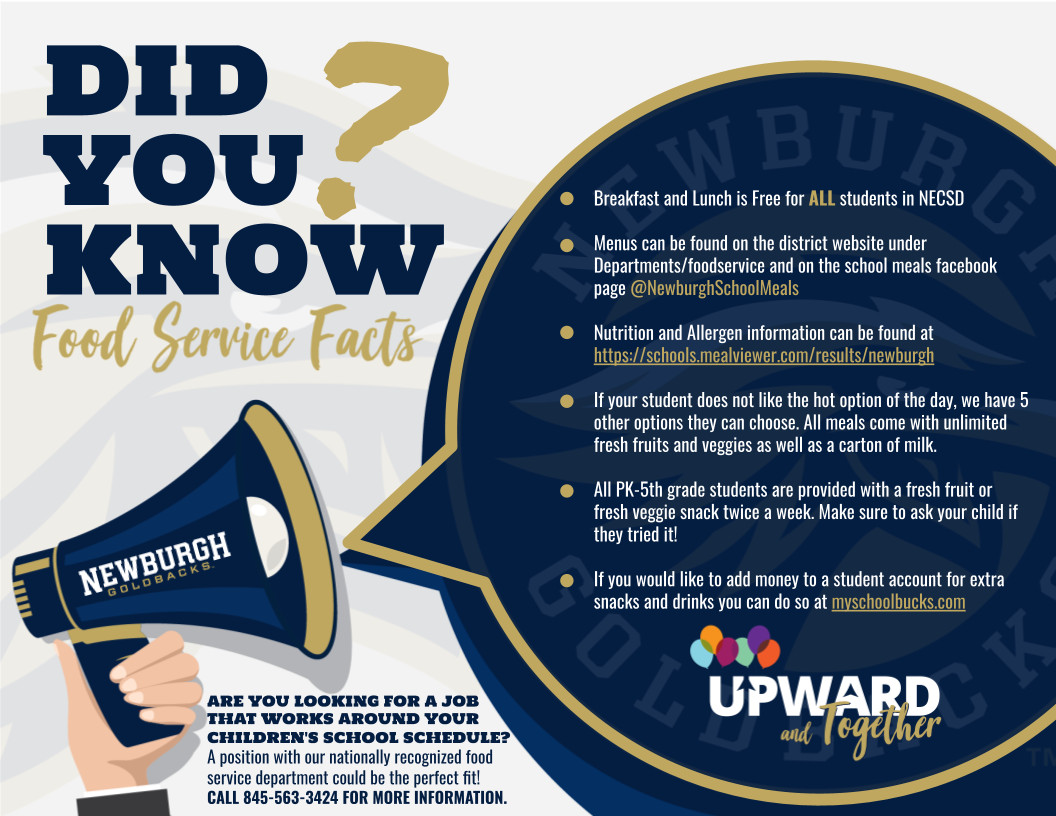 DID YOU KNOW?
Food Service Facts
Breakfast and Lunch is Free for

ALL

students in NECSD

Menus can be found on the district website under Departments/foodservice and on the school meals facebook page

@NewburghSchoolMeals

Nutrition and Allergen information can be found at

https://schools.mealviewer.com/results/newburgh

If your student does not like the hot option of the day, we have 5 other options they can choose. All meals come with unlimited fresh fruits and veggies as well as a carton of milk.

All PK-5th grade students are provided with a fresh fruit or fresh veggie snack twice a week. Make sure to ask your child if they tried it!

If you would like to add money to a student account for extra snacks and drinks you can do so at

myschoolbucks.com

ARE YOU LOOKING FOR A JOB THAT WORKS AROUND YOUR CHILDREN'S SCHOOL SCHEDULE?

A position with our nationally recognized food service department could be the perfect fit!

CALL 845-563-3424 FOR MORE INFORMATION.

---

¿SABÍAS?

Datos del servicio de alimentos

El desayuno y el almuerzo son gratuitos para

TODOS

estudiantes en NECSD
Los menús se pueden encontrar en el sitio web del distrito en Departamentos/servicio de alimentos y en la página de Facebook de comidas escolares @NewburghSchoolMeals
Puede encontrar información sobre nutrición y alérgenos en

https://schools.mealviewer.com/results/newburgh
Si a su estudiante no le gusta la opción caliente del día, tenemos otras 5 opciones que puede elegir. Todas las comidas vienen con frutas y verduras frescas ilimitadas, así como un cartón de leche.
Todos los estudiantes de PK a 5.° grado reciben una merienda de frutas frescas o vegetales frescos dos veces por semana. ¡Asegúrese de preguntarle a su hijo si lo probó!
Si desea agregar dinero a una cuenta de estudiante para refrigerios y bebidas adicionales, puede hacerlo en

myschoolbucks.com

¿ESTÁ BUSCANDO UN TRABAJO QUE SE ADAPTE AL HORARIO ESCOLAR DE SUS HIJOS?

¡Un puesto en nuestro departamento de servicio de alimentos reconocido a nivel nacional podría ser perfecto!

LLAME AL 845-563-3424 PARA MÁS INFORMACIÓN.

---
ATTENTION: Are your scholars or colleagues doing something great? Please contact the district Communications Team at communications@necsd.net. We'd love to visit your class or event and/or post your pictures and recap to highlight the amazing accomplishments throughout our district!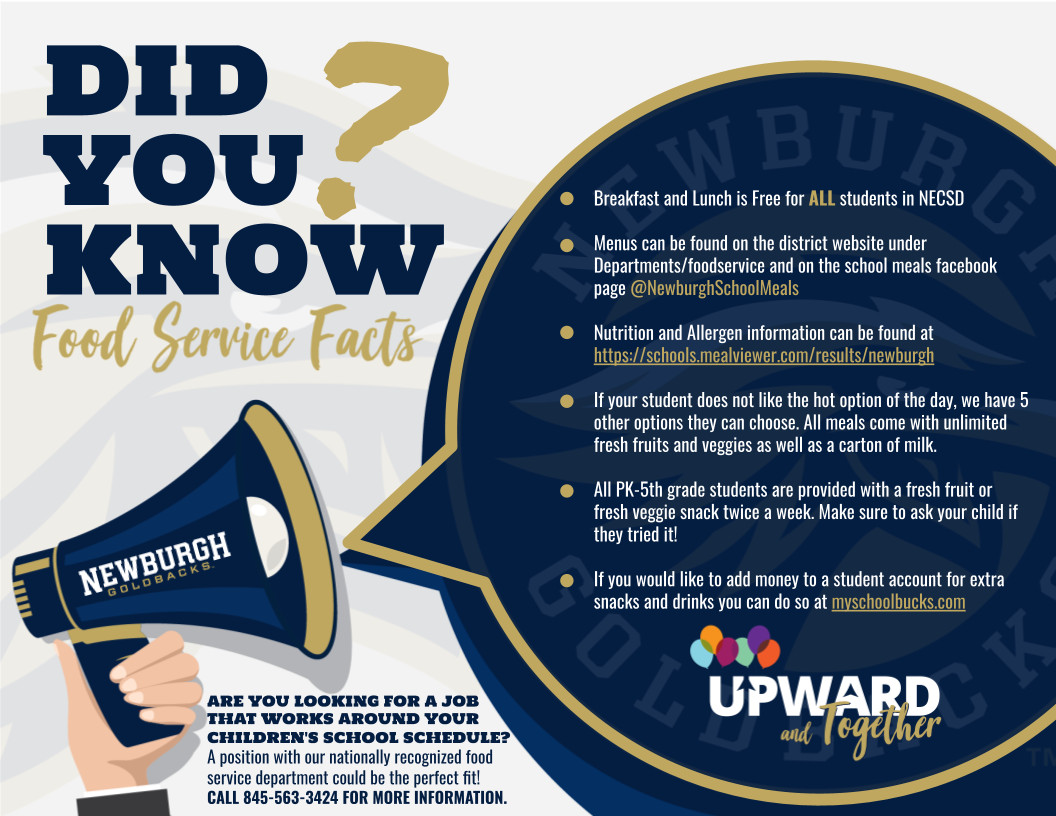 Date: 2022-10-19 05:46:58 AM