ATTENTION! NECSD is Offering Fresh Fruits and Vegetables to Scholars!
The Newburgh Enlarged City School District is pleased to announce that we will be participating in the Fresh Fruit & Vegetable Program (FFVP) for the 2022-23 school year.
The program is provided by our school Food Services Department and funded through the USDA Department of Agriculture Farm Bill.
All students in grades Pre-K through 5 will receive a fruit or vegetable snack daily in their classroom. Students will also learn "Fun Facts" about each item offered.
THE GOALS OF THE FRESH FRUIT AND VEGETABLE PROGRAM (FFVP) ARE TO:
Create healthier school environments by providing healthier food choices.

Expand the variety of fruits and vegetables children experience.

Increase children's fruit and vegetable consumption.

Make a difference in children's diets to impact their present and future health.
Some examples include: Blueberries, Cantaloupe, Cauliflower and Snow Peas…Just to name a few.
Menus can be viewed online at newburghschools.org under the Food Services page or by following us on Facebook @NewburghSchoolMeals.
If you have any questions about this program, please contact the Food Service Department at (845) 563.3424 or email SchoolMeals@necsd.net
___________________________________________________________________________________________
El Distrito Escolar de la Ciudad Ampliada de Newburgh se complace en anunciar que participaremos en el Programa de Frutas y Verduras Frescas (FFVP) para el año escolar 2022-23.
El programa es proporcionado por el Departamento de Servicios de Alimentos de nuestra escuela y financiado a través de la Ley Agrícola del Departamento de Agricultura del USDA.
Todos los estudiantes en los grados Pre-K a 5 recibirán una merienda de frutas o vegetales diariamente en su salón de clases. Los estudiantes también aprenderán "Datos divertidos" sobre cada artículo ofrecido.
LOS OBJETIVOS DEL PROGRAMA DE FRUTAS Y VERDURAS FRESCAS (FFVP) SON:
Cree ambientes escolares más saludables proporcionando opciones de alimentos más saludables.
Amplíe la variedad de frutas y verduras que experimentan los niños.
Aumentar el consumo de frutas y verduras de los niños.
Marcar la diferencia en la alimentación de los niños para impactar en su salud presente y futura.
Algunos ejemplos incluyen: arándanos, melón, coliflor y guisantes de nieve… solo por nombrar algunos.
Los menús se pueden ver en línea en newburghschools.org en la página de Servicios de Alimentos o siguiéndonos en Facebook @NewburghSchoolMeals.
Si tiene alguna pregunta sobre este programa, comuníquese con el Departamento de Servicio de Alimentos al (845) 563.3424 o envíe un correo electrónico a SchoolMeals@necsd.net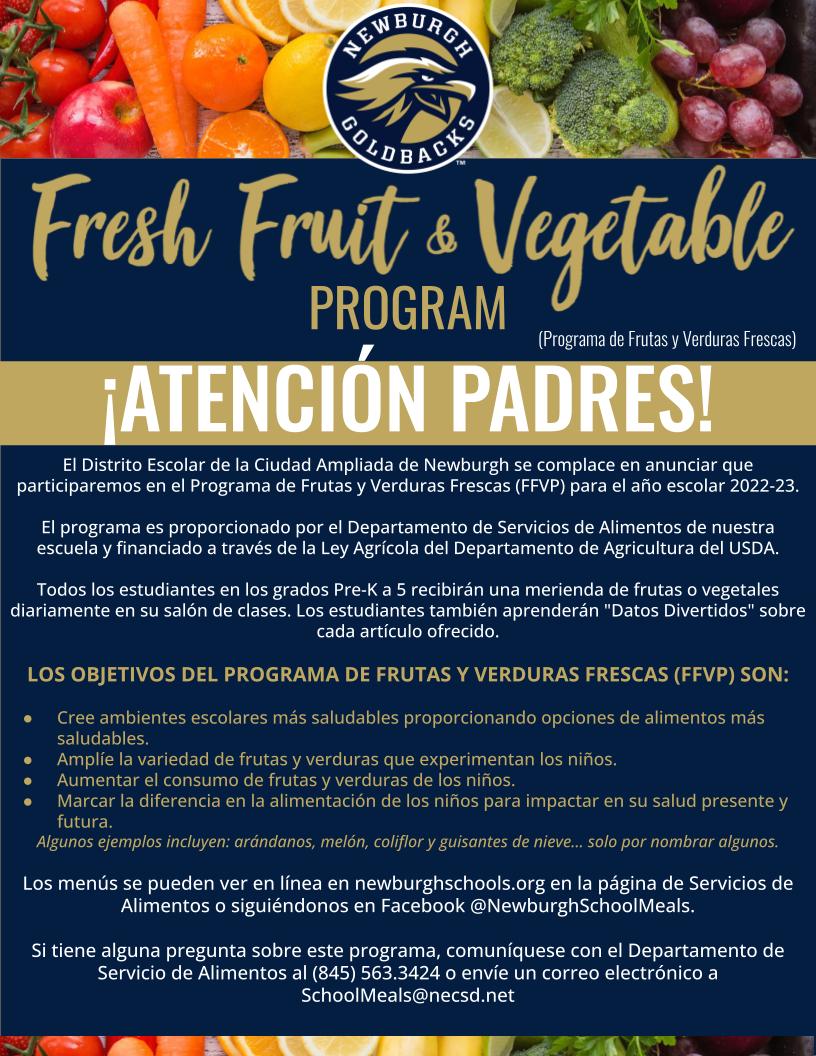 ATTENTION: Are your scholars or colleagues doing something great? Please contact the district Communications Team at communications@necsd.net. We'd love to visit your class or event and/or post your pictures and recap to highlight the amazing accomplishments throughout our district!
Date: 2022-09-07 07:48:21 AM