NOTICE: This post is over 180 days old. This information may be outdated if you're looking for new or upcoming information.
REMINDER! District Closed | Juneteenth - Monday, June 20th
REMINDER! All schools and district offices will be closed on Monday, June 20th in observance of Juneteenth. Also known as Freedom Day, Juneteenth commemorates the emancipation of enslaved Black Americans in the United States. Originating in Galveston, Texas, it has been celebrated annually in various parts of the United States since 1865. Juneteenth became a federal holiday in the United States in 2021. To learn more about Juneteenth, visit bit.ly/3xorfKf
"On Juneteenth, we recommit ourselves to the work of equity, equality, and justice. And, we celebrate the centuries of struggle, courage, and hope that have brought us to this time of progress and possibility. That work has been led throughout our history by abolitionists and educators, civil rights advocates and lawyers, courageous activists and trade unionists, public officials, and everyday Americans who have helped make real the ideals of our founding documents for all." A Proclamation on Juneteenth Day of Observance, 2021
__________________________
¡RECORDATORIO! Todas las escuelas y oficinas del distrito estarán cerradas el lunes 20 de junio en observancia de "Juneteenth" el 19 de junio. También conocido como el Día de la Libertad, el de junio conmemora la emancipación de los negros esclavizados en los Estados Unidos. Originario en Galveston, Texas, ha sido celebrado anualmente en varias partes de los Estados Unidos desde 1865. El 19 de junio se convirtió en un día festivo federal en los Estados Unidos en 2021. Para obtener más información sobre "Juneteenth" el 19 de junio, visite bit.ly/3xorfKf
"El 19 de junio, nos volvemos a comprometer con el trabajo de la equidad, igualdad y justicia. Y celebramos los siglos de lucha, coraje y esperanza que nos han llevado a este momento de progreso y posibilidad. Ese trabajo ha sido liderado a lo largo de nuestra historia por abolicionistas y educadores, abogados y defensores de los derechos civiles, valientes activistas y sindicalistas, funcionarios públicos y estadounidenses comunes que han ayudado a hacer realidad los ideales de nuestros documentos fundacionales para todos". Una proclamación sobre el día de observancia del 19 de junio de 2021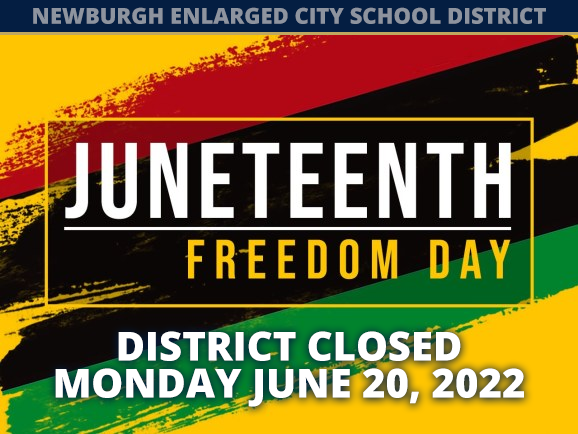 ATTENTION: Are your scholars or colleagues doing something great? Please contact the district Communications Team at communications@necsd.net. We'd love to visit your class or event and/or post your pictures and recap to highlight the amazing accomplishments throughout our district!
Date: 2022-06-17 10:41:07 AM