NOTICE: This post is over 180 days old. This information may be outdated if you're looking for new or upcoming information.
NFA Spring Musical: In the Heights (Virtual)
NFA scholars have been working tirelessly to transform their in-person production of In the Heights that they were set to perform in March 2020 to a virtual show for their fans to enjoy. Some parts have been recast and/or re-recorded for the virtual show. Purchase your ticket(s) to enjoy the virtual production. If you already have tickets from last year, those tickets will be honored (see below).
Tickets sales
will be open from May 10th at 9:30 AM through May 24th at 8:00 PM
There are no in-person sales. All transactions must be done through the website list above.
Current ticket holders
who purchased tickets in March 2020 should have already received a coupon code for each ticket purchased in their original order. This code will come to the email that the ticket holder purchased the tickets with last year. If no email was provided, a phone call has been made to request an email address. Current ticket holders must
visit the link to purchase tickets
and use the code to receive their complimentary ticket from last year's ticket purchase.
Anyone can purchase new tickets
for the streaming of the show.
New tickets cost $10.00 plus a $1.90 processing fee.
Each "ticket" will allow a single IP address (household network) access to view the performance. If you are watching in multiple locations, you will need to purchase additional tickets.
The link to watch the performance will appear on the purchase receipt.
The show will stream online like a Video on Demand. Anyone with a "ticket" can watch online from 5/21 6pm to 5/25 12am (ET)
Buy In the Heights tickets here
CAST (includes the original cast and any re-casts from this year):
Usnavi De La Vega - Sam Garcia
Nina Rosario - Chelsea Amaro / Sunny Almeyda
Vanessa - Grace Figueroa
Kevin Rosario - Xaveor Rutaquio
Camila Rosario - Kayla Garcia
Benny -Sam Sukhai
Sonny - Ivan Martinez / Hannah Abreu / Yvette Aquino
Abuela Claudia - Nyssa Valerio
Daniela -Julianna Martinez
Carla -Ymanie Kenan
Graffiti Pete - AJ Armstrong
Piragua Guy - Mr. Mathis
Guy in Club (Jose #2) - Jayson Jones
Dance Chorus
Gabrielle Colon, Jordan Cordero, Sydney Green, Ellisyn Granda, Parisia Hutchinson,
Kayla Jackson, Kylie Jackson, Karissa Mazer, Keythlin Minaya De La Cruz, Marioli Santos,
Malik Williams, Kevin Gutierrez, Odirlei Thomaz
Ensemble
Hannah Abreu, Yvette Aquino, Darwin Benegas*, Nigel Corney, Sage Galati, Leiyana Gayle,
Olivia Gloffke*, Ellisyn Granda*, Jayson Jones*, Tegan Maher, Mia Martinez*, Ryan McMahon, LeAndro Orfano*, Elizabeth Ortiz, Paige Parra, Emily Reischer*, Samuel Rider, Amaris Rivera, Merari Sanoja, Nivieria Spearman, Jillian Torres, Ky Turenchalk
*denotes ensemble members who also perform w/dance chorus
The NFA Spring Musical is directed by Ms. Mandy Clifford.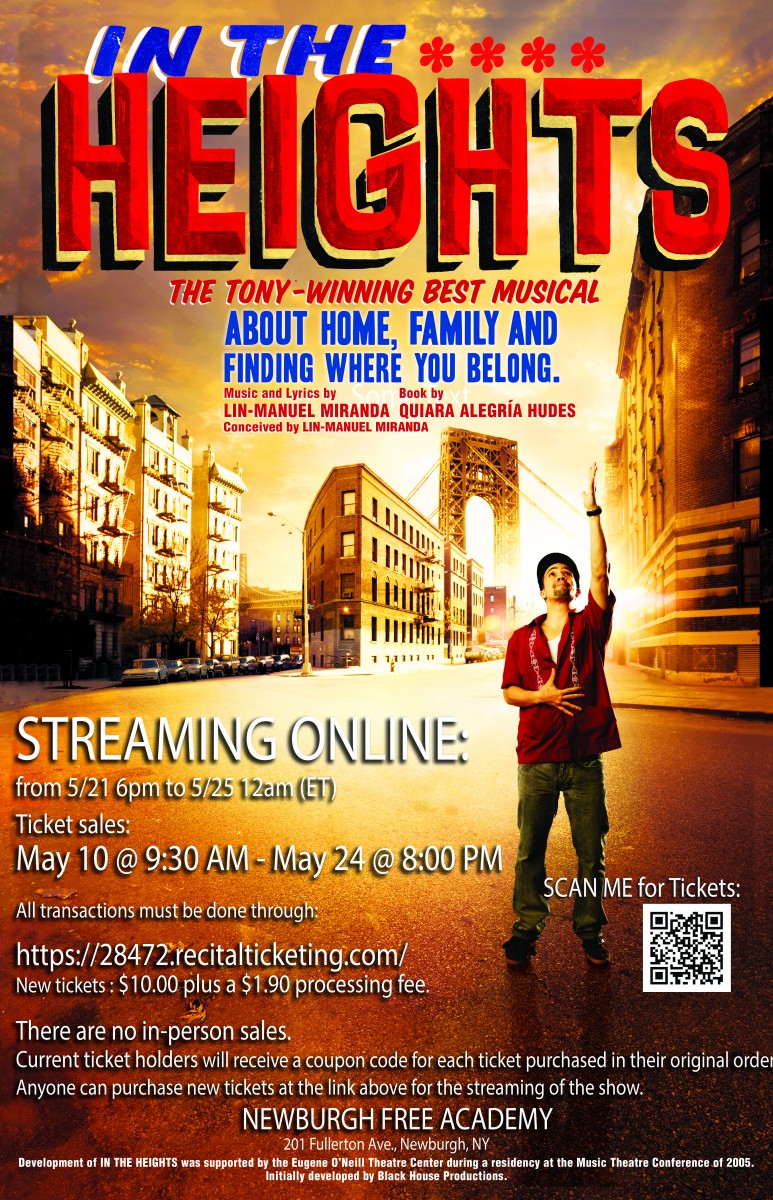 ATTENTION: Are your scholars or colleagues doing something great? Please contact the district Communications Team at communications@necsd.net. We'd love to visit your class or event and/or post your pictures and recap to highlight the amazing accomplishments throughout our district!
Date: 2021-05-14 09:42:50 AM