NOTICE: This post is over 180 days old. This information may be outdated if you're looking for new or upcoming information.
Two NFA students qualify as National Merit Scholarship Corp Semi-Finalists!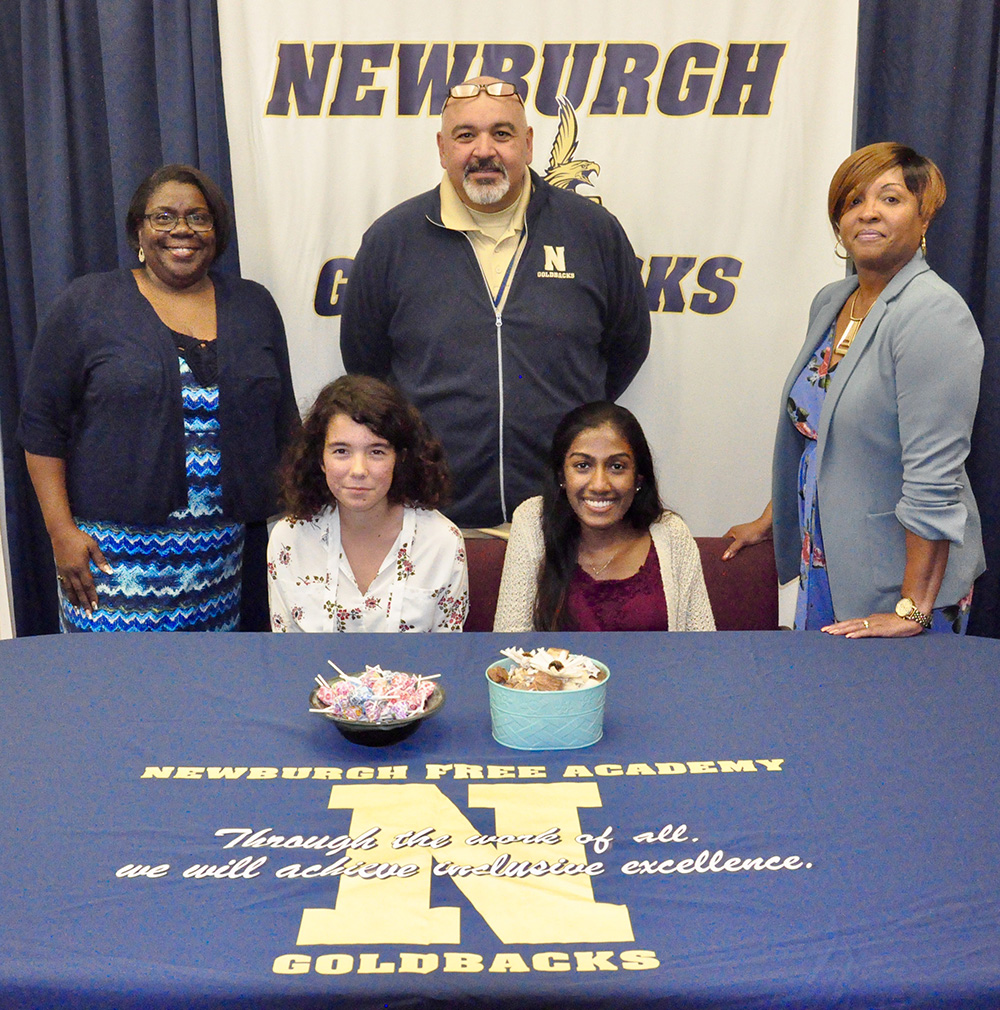 NFA Main's Alyssa Rider and Supriya Makam, are two National Merit Scholarship Corp Semi- Finalists from NFA Main.
Alyssa was inducted into the National Junior Honor Society in 7th grade and the NYS Science Honor Society and Spanish Honor Society in 10th grade. She has been in Marching Band and Wind Ensemble since 9th grade and is on the Varsity Cross-Country Team, Varsity Indoor Track Team, and the Varsity Track & Field Team. She volunteers with Girls on the Run Hudson Valley, Safe Harbors on the Hudson, and St. Luke's Cornwall Hospital Emergency Room. Alyssa hopes to go to college next year and study foreign languages (as many as possible). After that, she hopes to find a career that will take allow her to travel outside the United States.
Supriya Makam was recently recognized by the National Association for Music Education for All-Eastern Mixed Chorus and All-National Mixed Chorus. She has been a finalist in national singing competitions (Tarana, 2017 and NRIVA, 2015 and 2017). Supriya is Founder and CEO of Educate without Borders, a non-profit organization dedicated to promoting literacy for under privileged children. She has conducted Opioid Research with montefior Medical Center with a paper accepted to be published in the Open Journal of Anesthesiology. She is a Chairperson of Walk for Autism Speaks with over 200 participants and commendation from Rep. Sean Patrick Maloney and Assemblyman Frank Skartados. Received a Faces of Hope Award for Commitment and a Gold Presidential Award for Community Services. She is the President and former Historian of the New York State Science Honor Society, a Student Council Senator, and a member of the Varsity Tennis Team. She plans ono majoring in psychology and hopes to work in the fields of medicine and public health.
Semi-Finalists are the highest scoring entrants in each state. The National Merit® Scholarship Program is an academic competition for recognition and scholarships that began in 1955. The Preliminary SAT/National Merit Scholarship Qualifying Test (PSAT/NMSQT®) serves as an initial screening process for 1.6 million applicants.
Semi-Finalists find out if they advance as a Finalist in February.
TEACHERS: Are you and your students doing something great? Please contact your Communication Strategist. We'd love to attend or post your pictures and recap to highlight the amazing accomplishments throughout our district! Grades PreK-5 Amanda McDowell (amcdowell@necsd.net) and Grades 6-12 Cassie Sklarz (csklarz@necsd.net).
Date: 2017-10-16 09:24:44