NOTICE: This post is over 180 days old. This information may be outdated if you're looking for new or upcoming information.
Two NFA Scholars Received Annual Tuskegee Scholarship Award
Two Newburgh Free Academy scholars, Hannah Cullen and Mya Zylberberg, received the annual Tuskegee Scholarship award early this year. According to the Mid-Hudson Times, the New Windsor-based Maj. Gen. Irene Trowell-Harris Chapter of the National Tuskegee Airman Inc. has announced that eight scholarships totaling $13,000 will be presented to deserving Hudson Valley High School Seniors.
More about Hannah:
Hannah Cullen is currently a senior at Newburgh Free Academy Main Campus. Next year, Hannah plans to attend The Citadel Military College of South Carolina to study Mechanical Engineering or Physics. After college, Hannah also plans to enlist in the United States Marine Corps.
While a student at NFA, Hannah was part of the National Honor Society, Orchestra, Music Honor Society, and JROTC. She is the first chair for the NFA Orchestra. With JROTC, Hannah was a squadron commander and a communications officer for Tuskegee Airmen. Additionally, Hannah participated in over 90 hours of community service, held an internship with Assemblyman Colin Schmitt's office, helped to raise dogs for Canine Companions for Independence, and was part of the Tuskegee Airman Flying Program.
When asked about someone who has been influential in her life, Hannah mentioned Colonel Edward Seward from AFJRTOC. "He is such a positive influence on all of the cadets in JROTC," Hannah said, "Colonel Seward helped me when I was transferring schools and our program is so blessed to have him as our teacher."
Eventually, Hannah wants to be a pilot for the United States Marines.
More about Mya:
Mya Zylberberg is currently a senior at Newburgh Free Academy P-TECH. Next year, Mya plans to attend college with an interest in studying economics, finance, and cybersecurity. Prior to attending NFA P-TECH, Mya attended Temple Hill Academy and South Middle School.
Mya has extensive volunteer experience including with Habitat for Humanity, with the annual Hour of Code event, helping to restore Crystal Lake in Newburgh, and painting a crosswalk at Blacc Vanilla Cafe. Mya is also a coordinator at the Repair Cafe. Mya is part of the Global to Local program through NFA P-TECH and has volunteered with Scenic Hudson as part of the DEC Citizen Science program and has helped to count Eels in the Quassaick Creek. Mya has also participated with Activists Talking with Future Teachers program at SUNY New Paltz.
Mya is part of the NFA Ski and Snowboard Club as well as the NFA Debate Team, NYS National Honor Society, and NYS Science Honors Society.
Outside of school, Mya enjoys snowboarding with the SHRED Foundation and has received CPR Certification through the American Heart Association.
Through NFA P-TECH's partnership with SUNY Orange, Mya is a SUNY Orange Honors Program member, part of Phi Theta Kappa Honor Society, is a member with the Louis Stokes Alliances for Minority Participation (LSAMP), and is part of the College Science Engineering Technology Program (CSTEP).
When asked about her favorite subject area in high school, Mya said,"I truly enjoyed all of my P-TECH classes as they prepared me for learning about Cybersecurity. In addition, my most recent "Economics Regents Class" as a senior peaked my interest as Economics involves the study of supply and demand, and relates to how people, businesses and countries choose to spend their money. I've decided to also study Economics and Finance when I continue on with my post secondary education."
Mya noted several people who have positively impacted her journey including multiple teachers throughout her academic career as well as her parents and sister.
If Mya could give one piece of advice to younger Goldbacks, it would be "to take your time with learning and never be afraid to ask for help."


More about the Trowels-Harris Tuskegee Airmen chapter from the Mid-Hudson Times:
The Trowels-Harris Tuskegee Airmen chapter has been granting tuition assistance awards since 1999. During those 22 years, it has bestowed more than $238,000 on students bound for colleges and vocational schools. The chapter has now established the Hudson Valley Tuskegee Airmen Endowment Fund to guarantee the viability of future scholarships, as part of the chapter's mission to protect the legacy of the World War II Airmen and their role in the Civil Rights Movement.
The organization honors the legacy of the Tuskegee Airmen. The Tuskegee Airmen were the first African-American military aviators--both pilots and ground support personnel--in the United States Armed Forces. They flew and fought during World War II, when black Americans in many U. S. states were still subject to Jim Crow laws and the American military was racially segregated, as was much of the Federal Government. The Tuskegee Airmen were subjected to racial discrimination both within and outside the Army.
All black Army Air Force pilots were given primary training at Moton Field and went on to advanced training at the Tuskegee Army Airfield. Both were located in Tuskegee, Alabama, near the famous Tuskegee Institute (today Tuskegee University), which had been founded by Booker T. Washington.
The majority of "Tuskegee Experience" aviators went on to be trained as fighter pilots, though a number of them became medium-bomber pilots. The fighter pilots eventually were sent to North Africa, where they entered combat, while the bomber pilots continued stateside training with the expectation of being sent to the Pacific Theater of Operations. The war ended before this happened, however.
Meanwhile, the Tuskegee Airmen fought over North Africa and participated in the invasion of Sicily and then the Italian mainland. When a fighter base was established at Ramitelli, near the east coast of Italy, the Airmen became bomber-escort specialists, flying their P-47s and P-51s in support of Fifteenth Air Force B-17 and B-24 heavy bombers attacking Germany, Austria, Hungary and Romania. The Tuskegee Airmen were popularly known as "the Red Tails," because their fighters had unmistakable red-painted empennages, and bomber units often requested Red Tails as escorts, since few bombers ever were lost to Luftwaffe fighters when the Tuskegee Airmen were protecting them.
Few of the bomber crews knew that their protectors were African Americans, but all knew that they were very good and very brave.
The Tuskegee Airmen and their all-black ground crews and support personnel achieved an enviable combat record but after the war returned to an America still beset by racial discrimination and segregation. In July, 1948, Pres. Harry S. Truman ordered the integration of all the U. S. Armed Forces. The original Tuskegee Airmen squadrons were decommissioned and their surviving Tuskegee Airmen distributed among other newly integrated units.
The New Windsor-based local chapter of the Tuskegee Airmen Inc is named for Maj. Gen. Irene Trowell-Harris, who in 1993, became the first female African-American general in the 357-year history of the National Guard, the military's oldest branch. In 1986, she was appointed commander of the 105th USAF Clinic in Newburgh, making her the first Air National Guard nurse to command a medical clinic.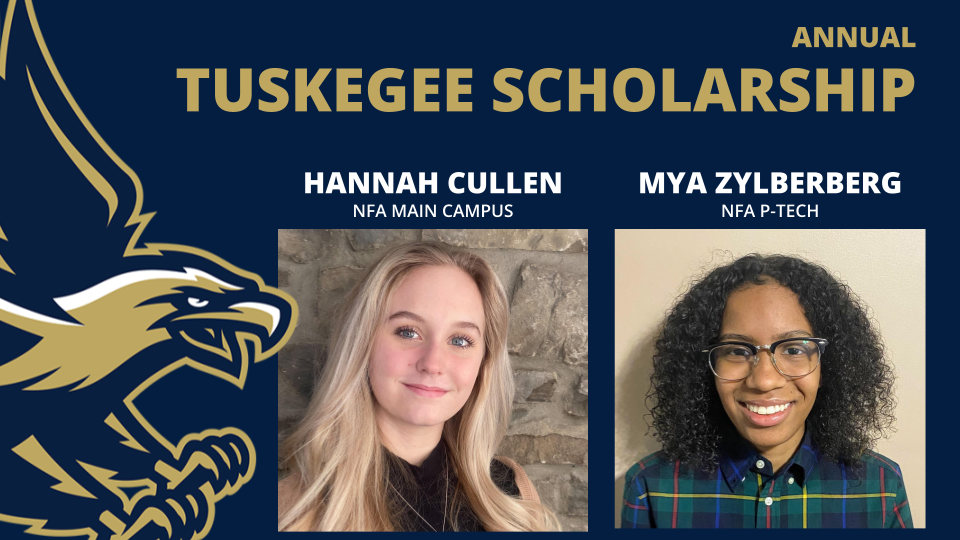 ATTENTION: Are your scholars or colleagues doing something great? Please contact the district Communications Team at communications@necsd.net. We'd love to visit your class or event and/or post your pictures and recap to highlight the amazing accomplishments throughout our district!
Date: 2021-04-20 05:36:09 AM