NOTICE: This post is over 180 days old. This information may be outdated if you're looking for new or upcoming information.
Horizons' Teacher Sabrina Dolfinger Runner Up for Better Beginnings Award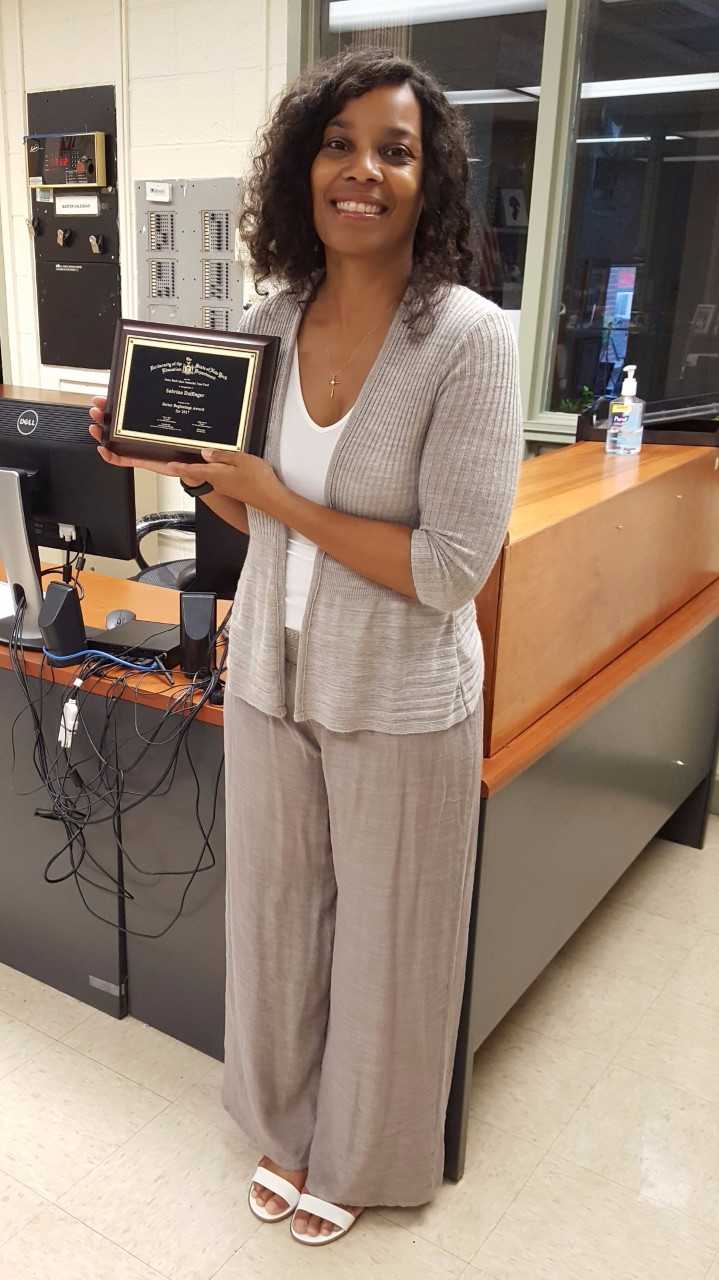 The Newburgh Enlarged School District is proud to announce that Sabrina Dolfinger was named a runner-up for the New York State "Better Beginnings Award". This award celebrates the life and career of Helen Bach Moss, a young New York State educator who passed away in 1988. As per NYSED, "Ms. Sabrina Dolfinger, a second-grade teacher at Horizons on the Hudson Magnet School in Newburgh will receive $250.00." She was nominated by her former principal, Lisa Buon, her colleagues, parents and students. Below one can find a recommendation letter written by a former student regaling her continuous influence in his life. We as a district are so proud of her.
Recommendation Letter From Former Student
Better Beginnings Award Letter of Recommendation for Mrs. Sabrina Dolfinger
If anyone knows how to get your head out of the clouds and make you smell the roses, it is Mrs. Dolfinger. My teacher during the 4th Grade, Mrs. Dolfinger definitely helped me to stay focused that school year, let me say, that was helpful because focus for me was problematic. When I entered Mrs. Dolfinger's classroom, paying attention became easier. Mrs. Dolfinger was a great teacher, and even when she was giving instruction she would have a good balance between fun & education.
Mrs. Dolfinger also avidly participated in many of our school functions. These included field trips, concerts, school fairs, etc. Mrs. Dolfinger participated in all these events because she is a firm believer in the capabilities of the students at Horizons on the Hudson, and it was at these school events like plays and concerts where she could see these kids grow. Mrs. Dolfinger's students would grow into tomorrow's performers, leaders, & reformers; I know I have. Since Horizons on the Hudson, I've gone on to perform in several school musicals. One of which I was fortunate at the attendance, of none other than Mrs. Dolfinger.
Mrs. Dolfinger has been teaching for a long while, even before I went to Horizons, where my journey in Newburgh truly began. In her off time, Mrs. Dolfinger would often tell stories about her past teaching experiences, and not just teaching experiences, but family experiences as well. And with these combined experiences, I think she is perfectly capable and qualified to be the very fittest in the field of teaching.
Furthermore, my ability to accomplish tasks in and out of the classroom became easier. Math, a difficult subject for me, seemed more doable now. I even obtained basic leadership skills from Mrs. Dolfinger. Thanks to Mrs. Dolfinger's example of basic leadership skills, I am now the Senior Patrol Leader (the senior most Boy Scout in charge of the entire troop) in my Boy Scout Troop, and I am a Cadet 2nd Lieutenant in my A.F. J. R. O. T. C. (Air Force Junior Reserved Officer Training Corps) unit, partially in charge of a small group of excelling cadets whom hold high grades in school. This is all thanks to Mrs. Dolfinger.
Therefore, at having known what an impact Mrs. Dolfinger has had on my life, I ask you to take a good long look, not at just the figure of exemplary performance in the classroom and community, but at the people she has affected and benefited. Mrs. Dolfinger has affected not only my life in such a positive way, but everyone who has been blessed in her presence; all through hard work, inspiration, leadership, and a bit of good advice here and there. It would mean so much to me, all of her former students, her family, and her fellow colleagues, if you would please consider her for the prestigious honor of receiving this award. I could not possibly think of a more deserving and dedicated individual than Mrs. Dolfinger. And with that, I thank you for your time and consideration.
Kind Regards,
Mrs. Dolfinger's Former Student, and Forever Admirer,
Ian
ATTENTION: Are your scholars or colleagues doing something great? Please contact the district Communications Team at communications@necsd.net. We'd love to visit your class or event and/or post your pictures and recap to highlight the amazing accomplishments throughout our district!
Date: 2017-10-16 03:55:20 AM