NOTICE: This post is over 180 days old. This information may be outdated if you're looking for new or upcoming information.
10-Day Meal Distribution MONDAY, December 21st - Last of 2020!
Our last meal distribution of 2020 will be on Monday December 21st and we will be providing 10 DAYS worth of Breakfast and Lunch and 5 DAYS worth of snacks!!

Each child will receive:
1 gallon of 1% Milk
1 quart of CHOCOLATE milk!
1/2 dozen eggs
1/2 dozen club rolls from Torino's Bakery
6oz of cheese
3lbs of apples
3lbs of sweet potatoes
1lb of baby carrots
1 acorn squash
2 servings of homemade beef chili
and so much more!!

Our sites and times are as follows:

GAMS 11AM-1PM and 3PM-5PM
Vails Gate 11AM-1PM and 3PM-5PM
NFA Main 11AM-1PM
South Middle 11AM-1PM
HOH 3PM-4PM
Meadow Hill 3PM-5PM

We can't wait to see you there!
________________________________
Nuestra última distribución de comida de 2020 será el lunes 21 de diciembre y proporcionaremos 10 DÍAS de desayuno y almuerzo y 5 DÍAS de refrigerios. Los horarios y ubicaciones serán los mismos que en nuestra distribución habitual y se enumerarán al final de este mensaje.
- Póngase la máscara cuando se acerque a la acera
- No salga de su vehículo
- Tenga su maletero abierto por seguridad y para limitar la exposición
Los estudiantes no tienen que estar presentes. Recoja en el sitio más conveniente para su familia.
Las comidas se proporcionan SIN COSTO para TODOS los niños menores de 18 años (si son mayores de 18 años, se requerirá un comprobante de inscripción en la escuela NECSD)
Nuestros sitios y horarios son los siguientes:
GAMS 11AM-1PM and 3PM-5PM
Vails Gate STEAM Academy 11AM-1PM and 3PM-5PM
NFA Main 11AM-1PM
South Middle 11AM-1PM
Horizons on the Hudson 3PM-4PM
Meadow Hill 3PM-5PM
¡No podemos esperar a verte allí!
Elementos de menú:
Cada niño recibirá:
1 galón de leche al 1%
1 litro de leche CHOCOLATE!
1/2 docena de huevos
1/2 docena de rollos de club de Torino's Bakery
6 oz de queso
3 libras de manzanas
3 libras de batatas
1 libra de zanahorias pequeñas
1 calabaza bellota
2 porciones de chili de ternera casero
¡y mucho más!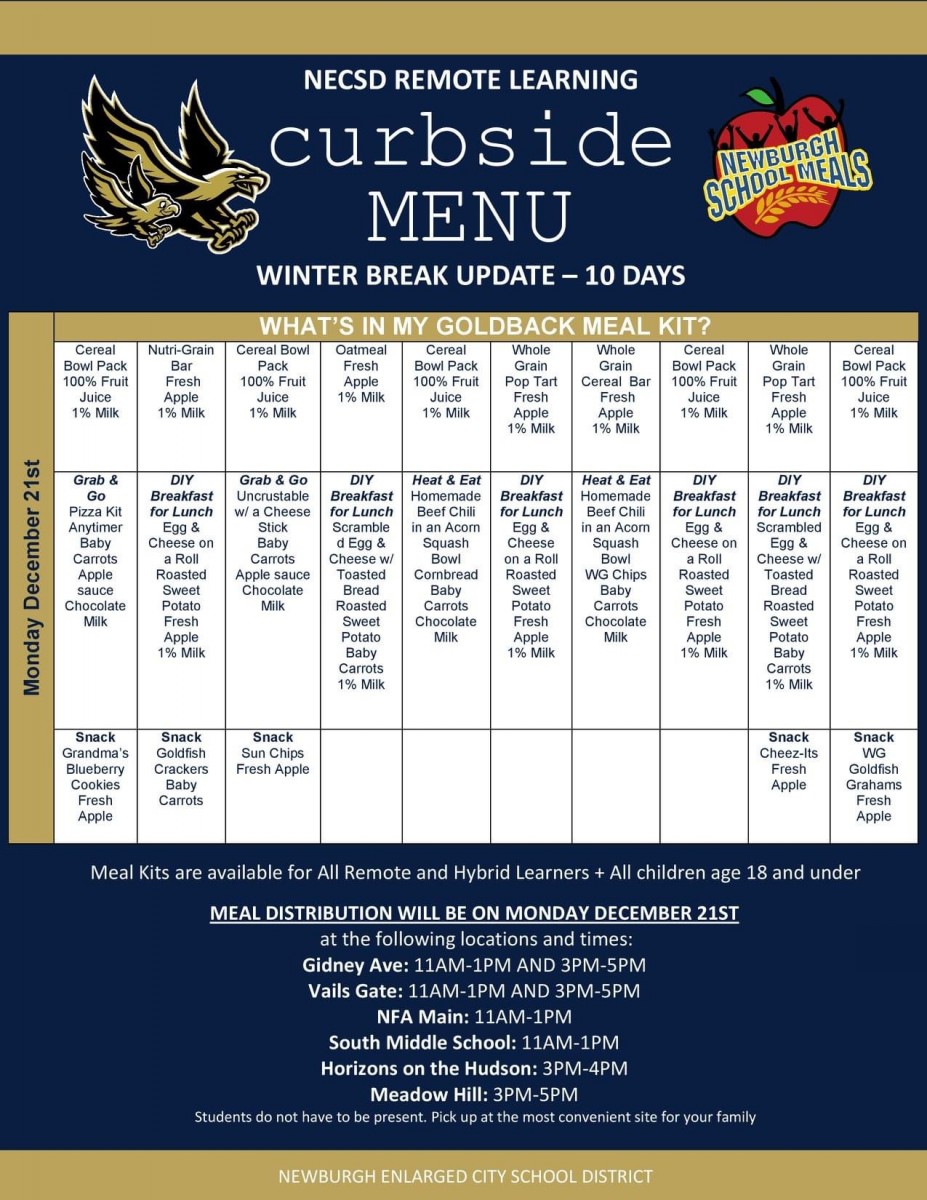 ATTENTION: Are your scholars or colleagues doing something great? Please contact the district Communications Team at communications@necsd.net. We'd love to visit your class or event and/or post your pictures and recap to highlight the amazing accomplishments throughout our district!
Date: 2020-12-18 07:22:26 AM