NOTICE: This post is over 180 days old. This information may be outdated if you're looking for new or upcoming information.
Newburgh School Meals Distribution Today!
Newburgh School Meals distribution resumes today, Wednesday, December 2nd and we are excited to announce that we are now including 5 DAYS OF SNACKS with our meal bundles!
We are also expecting to pass the 1 MILLION meal mark this week! We would like to celebrate the 1 Million Meal milestone and we need your help! Please send any photos of your children enjoying their school meals to Communications@necsd.net. We would also love to see any videos of scholars saying 'Thank You!' to our Food Services team. Photos and videos will be accepted until Friday, December 4th at 12pm, noon.
Thank you all for your continued support of our meal program. We can't wait to see everyone later today!
GAMS: 11AM-1PM and 3PM-5PM
Vails Gate: 11AM-1PM and 3PM-5PM
NFA Main 11AM-1PM
South Middle: 11AM-1PM
HOH: 3PM-4PM
Meadow Hill 3PM - 5PM
__________________________
Hola Goldbacks, la distribución de comidas escolares de Newburgh se reanuda hoy, miércoles 2 de diciembre, y nos complace anunciar que ahora incluimos 5 DÍAS DE BOTANAS con nuestros paquetes de comidas.

¡También esperamos pasar la marca de 1 MILLÓN de comidas esta semana!

Gracias a todos por su continuo apoyo a nuestro programa de comidas. ¡No podemos esperar a verlos a todos hoy! Como recordatorio, la lista de ubicaciones y horarios son:
GAMS: 11AM-1PM and 3PM-5PM
Vails Gate: 11AM-1PM and 3PM-5PM
NFA Main 11AM-1PM
South Middle: 11AM-1PM
HOH: 3PM-4PM
Meadow Hill 3PM - 5PM
Por favor recuerde:
- Ponerse una máscara cuando se acerque a la acera
- No salga de su vehículo
- Tenga su maletero abierto por seguridad y para limitar la exposición

Las comidas se proporcionan SIN COSTO para TODOS los niños menores de 18 años. Los estudiantes no tienen que estar presentes. Recoja en el sitio más conveniente para su familia.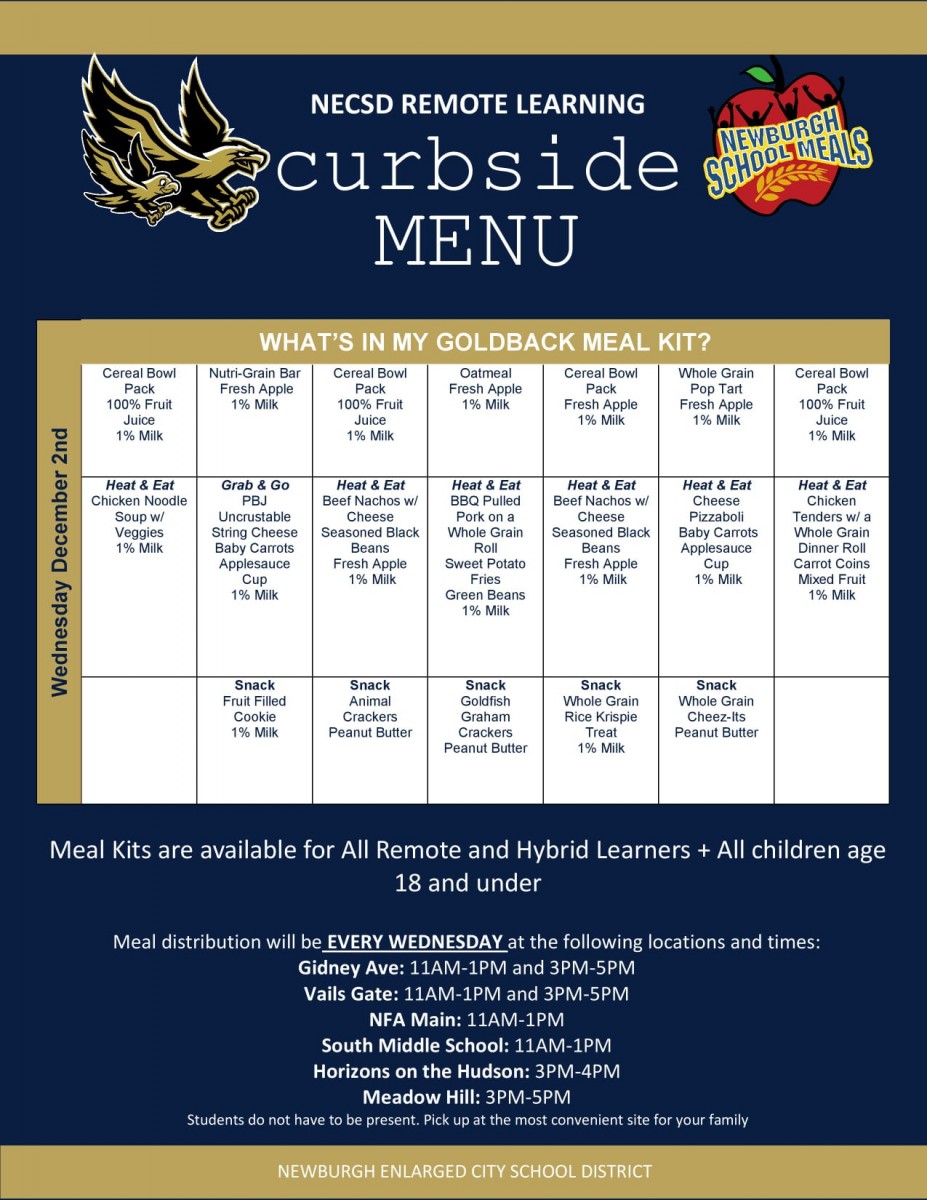 ATTENTION: Are your scholars or colleagues doing something great? Please contact the district Communications Team at communications@necsd.net. We'd love to visit your class or event and/or post your pictures and recap to highlight the amazing accomplishments throughout our district!
Date: 2020-12-02 03:44:02 AM