NOTICE: This post is over 180 days old. This information may be outdated if you're looking for new or upcoming information.
Meal Distribution Information - Last One in November!
Wednesday November 18th will be our last meal distribution for the month of November. We will be providing 10 DAYS worth of breakfast and lunch items.

Each child will receive bulk items including:

Fresh French Bread from Torino's Bakery
1/2 dozen Eggs
3lbs of Fresh Sweet Potatoes
3lbs of Fresh Oranges
1/2lb of Mozzarella Cheese
1/4lb of American Cheese
1 gallon of 1% milk
1 qt of Chocolate milk
10,000 smiles from your school meal team!

We can't wait to see you there!
- Please have your mask on as you approach the curb
- Do not exit your vehicle
- Have your trunk open for safety and to limit exposure
Students do not have to be present. Pick up at the most convenient site for your family.

Meals are provided at NO COST for ALL children age 18 and under (if over 18, proof of NECSD school enrollment will be required)
Pre-order meals: If you are picking up for 9 children or more, please complete this form and follow the instructions for pick up.
https://docs.google.com/forms/d/e/1FAIpQLSeYBaMdJiuU6OzQ6Z2AXKnnXqCybEQemm_22iSfIj-GpBq3dw/viewform?usp=sf_link
Locations and times:
GAMS: 11am - 1pm AND 3pm - 5pm
NFA Main: 11am - 1pm
Vails Gate:
11am - 1pm AND 3pm - 5pm
South Middle: 11am - 1pm **New extended hours
Horizons on the Hudson: 3pm - 4pm
Meadow Hill 3pm - 5pm
_____________________________________________
El miércoles 18 de noviembre será nuestra última distribución de comida del mes de noviembre. Proporcionaremos 10 DÍAS de artículos para el desayuno y el almuerzo.

Cada niño recibirá artículos a granel que incluyen:

Pan francés fresco de Torino's Bakery
1/2 docena de huevos
3 libras de batatas frescas
3 libras de naranjas frescas
1/2 libra de queso mozzarella
1/4 lb de queso americano
1 galón de leche al 1%
1 qt de leche con chocolate
¡10,000 sonrisas de su equipo de comidas escolares!

¡No podemos esperar a verte allí!
- Póngase la máscara cuando se acerque a la acera
- No salga de su vehículo
- Tenga su maletero abierto por seguridad y para limitar la exposición
Ubicaciones y horarios para recoger las comidas de los miércoles:
GAMS 11AM-1PM and 3PM-5PM
NFA Main Campus 11AM-1PM
Vails Gate 11AM-1PM and 3PM-5PM
South Middle School 11AM-1PM **Nuevo horario extendido
Horizons on the Hudson 3PM-4PM
Meadow Hill 3PM-5PM

¡Esperamos verte ahí!

Los estudiantes no tienen que estar presentes. Recoja en el sitio más conveniente para su familia.

Las comidas se proporcionan SIN COSTO para TODOS los niños menores de 18 años (si son mayores de 18 años, se requerirá prueba de inscripción escolar en NECSD)
Pedir comidas por adelantado: Si va a recoger para 9 niños o más, complete este formulario y siga las instrucciones para recoger.
https://docs.google.com/forms/d/e/1FAIpQLSeYBaMdJiuU6OzQ6Z2AXKnnXqCybEQemm_22iSfIj-GpBq3dw/viewform?usp=sf_link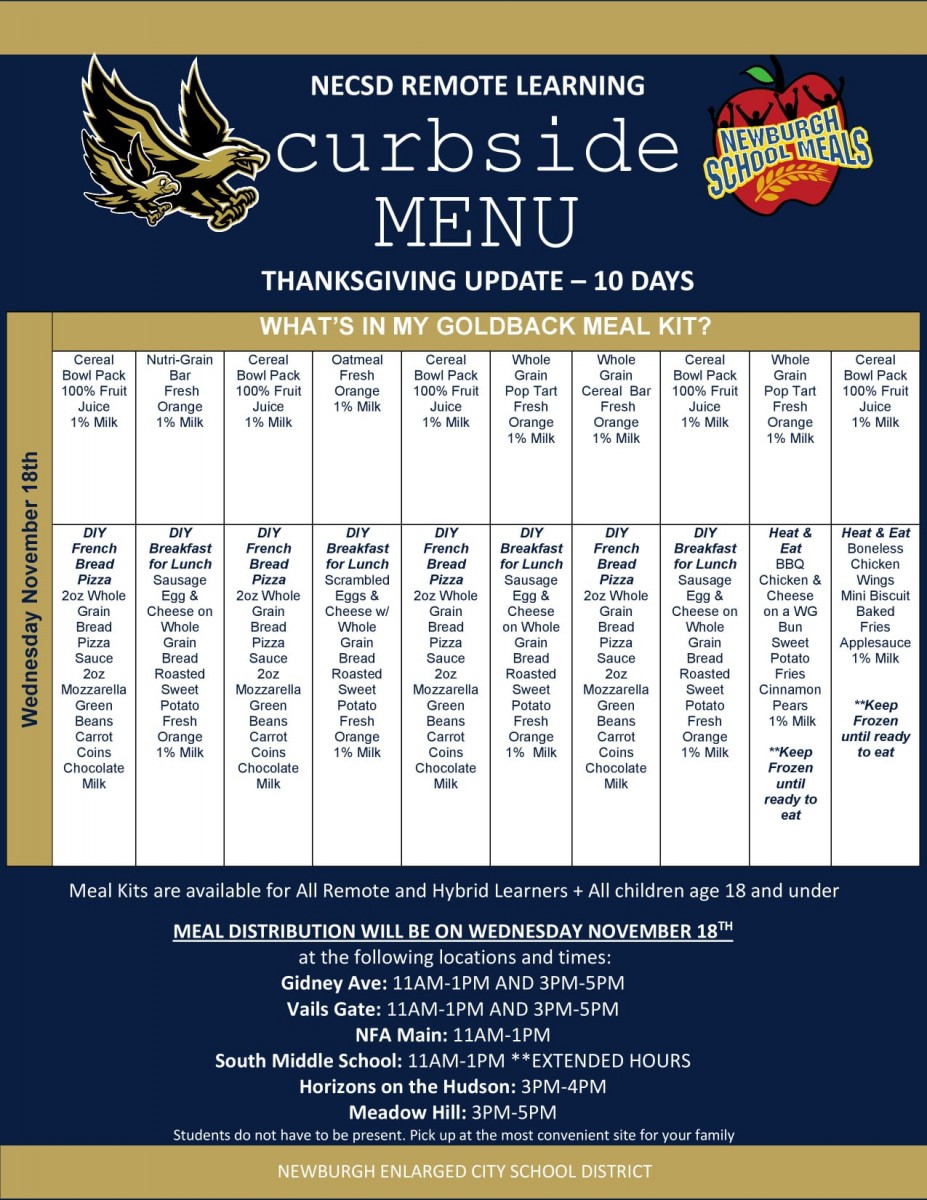 ATTENTION: Are your scholars or colleagues doing something great? Please contact the district Communications Team at communications@necsd.net. We'd love to visit your class or event and/or post your pictures and recap to highlight the amazing accomplishments throughout our district!
Date: 2020-11-16 03:16:11 AM