NOTICE: This post is over 180 days old. This information may be outdated if you're looking for new or upcoming information.
NECSD Seeks Public Input on Bond Proposal to Make Newburgh Future-Ready
On Wednesday, June 21, 2017, Newburgh Enlarged City School District Superintendent of Schools Dr. Roberto Padilla unveiled a bond proposal which will be put forth to district voters during the 2017-2018 school year pending Board of Education approval. The bond project was brought forward to improve educational and building infrastructure across the district. The project is being guided by the district's strategic plan, Vision2020, under the direction of Newburgh-based architecture, engineering and planning firm Clark Patterson Lee (CPL).
The preliminary bond project addresses buildings across the district including limited classroom space, renovations and building upgrades to infrastructure, ventilation in buildings, traffic and outdoor space reconfiguration, district branding and security enhancements to entry vestibules in building lobbies and hallways. Included in the bond proposal is a Pre-K Center for the district's youngest scholars, a new elementary building and a high school complex that includes new CTE instructional spaces and an athletic field house on the NFA Main Campus.
The proposed project, will also impact the NECSD's Fine and Performing Arts Department with prospective improvements to classroom space for music and art programs. Currently, several schools in the district use the 'art and music on a cart' model instead of having a dedicated art or music space. In addition, over at Newburgh Free Academy, the Career and Technical Education Department continues to grow with the need for a devoted space for career and technical education programs allowing the department to offer more programing and increase the work in current program offerings.
"Students and staff in the Newburgh Enlarged City School District deserve a world class educational experience. Our scholars and teachers are at disadvantage if we do not provide them with future-ready classrooms and opportunities. Currently, our district buildings are in need of an overhaul so that we can compete on a national and global scale. This proposed bond project will allow the Newburgh Enlarged City School District to move forward and become future-ready now," shared Dr. Roberto Padilla.
Information and opportunities for input are available on the Newburgh Enlarged City School District website under the Bond 2017 link. Please visit www.bond.newburghschools.org. In addition, you can follow the bond process and receive updates on Facebook, Twitter, Instagram using: NECSDBond2017. You can also email your comments to bond2017@necsd.net. The bond proposal will be discussed at the upcoming Board of Education Meeting on Thursday, July 6, 2017 at 5:00 p.m.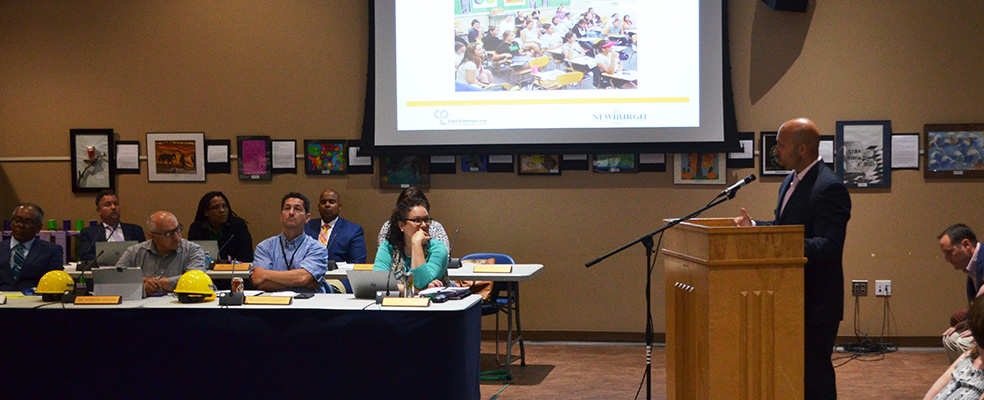 ATTENTION: Are your scholars or colleagues doing something great? Please contact the district Communications Strategist, Cassie Sklarz (csklarz@necsd.net). We'd love to visit your class or event and/or post your pictures and recap to highlight the amazing accomplishments throughout our district!
Date: 2017-06-23 17:06:37