NOTICE: This post is over 180 days old. This information may be outdated if you're looking for new or upcoming information.
Cap Decorations - Updated Information
Hello graduating seniors,
Graduation cap decorations for the Class of 2020 Final Walk Across Academy Field have been approved for this year. Please find guidelines below.
Before you decorate your cap, please email your cap tossing video to
Communications@necsd.net
no later than
Tuesday, June 23rd by noon
to be included in the Class of 2020 Virtual Recognition.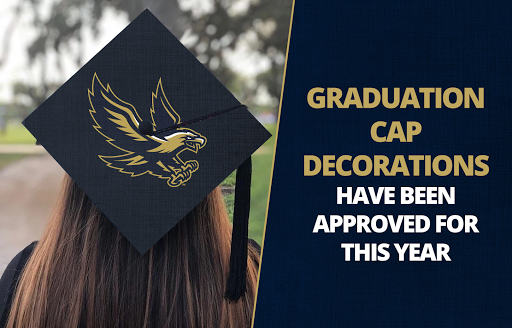 2020 Cap Decorating Guidelines for Newburgh Free Academy

Graduation Cap Decorating Procedures and Etiquette:
Please take into consideration the following rules when decorating your graduation cap. Failure to follow these rules will result in a replacement cap being given to you during the Final Walk Across Academy Field event at your own cost.

It is appropriate to put the following on your cap:
• School and district pride
• Messages of thanks (to a parent, grandparent, teacher, guardian, etc.)
• Recognition of the college or university you will be attending
• Your graduation year
• The branch of the military you will be joining
• Celebration of your heritage


Please note:
• Only the flat, top area of the mortar board may be decorated. There may be nothing hanging down from any of the sides of the cap.
• Decorations must be flat on the surface of the cap. 3-D creations are prohibited.
• Graduation caps will be reviewed and approved in advance of the ceremony.
• No offensive language, sayings, nicknames, pictures or lyrics on cap.
• No objects such as signs, stuffed animals, bells, or any 3D object may rest on the cap.
• Your cap should not make noise. No bells, horns, or anything that makes noise.
• Caps should not contain any advertisement, symbols, abbreviations, initials, words, slogans, patches, or pictures that: Refer to drugs or controlled substances, tobacco, alcohol, violence, illegal activity or weapons or be of a sexual nature.
• Be obscene, profane, vulgar, or lewd.

Students, we highly suggest you trace your cap onto cardboard and decorate the cardboard. In case you make a mistake, you can start over with a new piece of cardboard. After you decorate it, stick it to your cap with double-sided tape or Velcro stickers. A new cap will not be provided if you make a mistake while decorating. Administrators reserve the right to disallow anything that is not considered appropriate for the Class of 2020 recognition event.
Virtual Recognition REMINDER
- We need your help!
Due date: Tuesday, June 23rd by noon.
We are working to make the Class of 2020 Virtual Recognition as special as possible. As part of the presentation, we would like to conclude with videos of you tossing your caps! This may feel silly individually, but when edited, you will all be able to virtually toss your caps together!
We know this is not the same as it would be, were we allowed to host our traditional graduation ceremony, but we are hopeful this virtual presentation will be a special memory that no other graduating class of Newburgh Free Academy will have.
Please dress in your cap and gown and excitedly toss your cap in the air! Reply to this email with your video
no later than Tuesday, June 23rd at noon
!
ATTENTION: Are your scholars or colleagues doing something great? Please contact the district Communications Team at communications@necsd.net. We'd love to visit your class or event and/or post your pictures and recap to highlight the amazing accomplishments throughout our district!
Date: 2020-06-21 09:03:20 AM