A conversation with Kenneth B. Morris
You are cordially invited to attend an virtual assembly with Mr. Kenneth Morris, great, great, great grandson of Frederick Douglass.
Mr. Morris descends from two of the most influential names in American history: he is the great-great-great grandson of Frederick Douglass and the great-great-grandson of Booker T. Washington. His mother, Nettie Washington Douglass, is the daughter of Nettie Hancock Washington (granddaughter of Booker T. Washington), and Dr. Frederick Douglass III (great-grandson of Frederick Douglass). Ken's life until the year 2007 could be described as distinguished yet decisively disengaged from his lineage until Providence called.
Ken continues his family's legacy of anti-slavery and educational work as co-founder and president of the Atlanta-based nonprofit Frederick Douglass Family Initiatives (FDFI). His career and life path are driven by a clear focus on FDFI's mission"[t]o Advance Freedom through Knowledge and Strategic Action." He could not have predicted that one day he would so fully embrace and be defined by the characteristics that so closely defined his famous ancestors.
You can register online at https://www.newburghschools.org/morris The virtual Assembly will take place at 1PM on June 1, 2020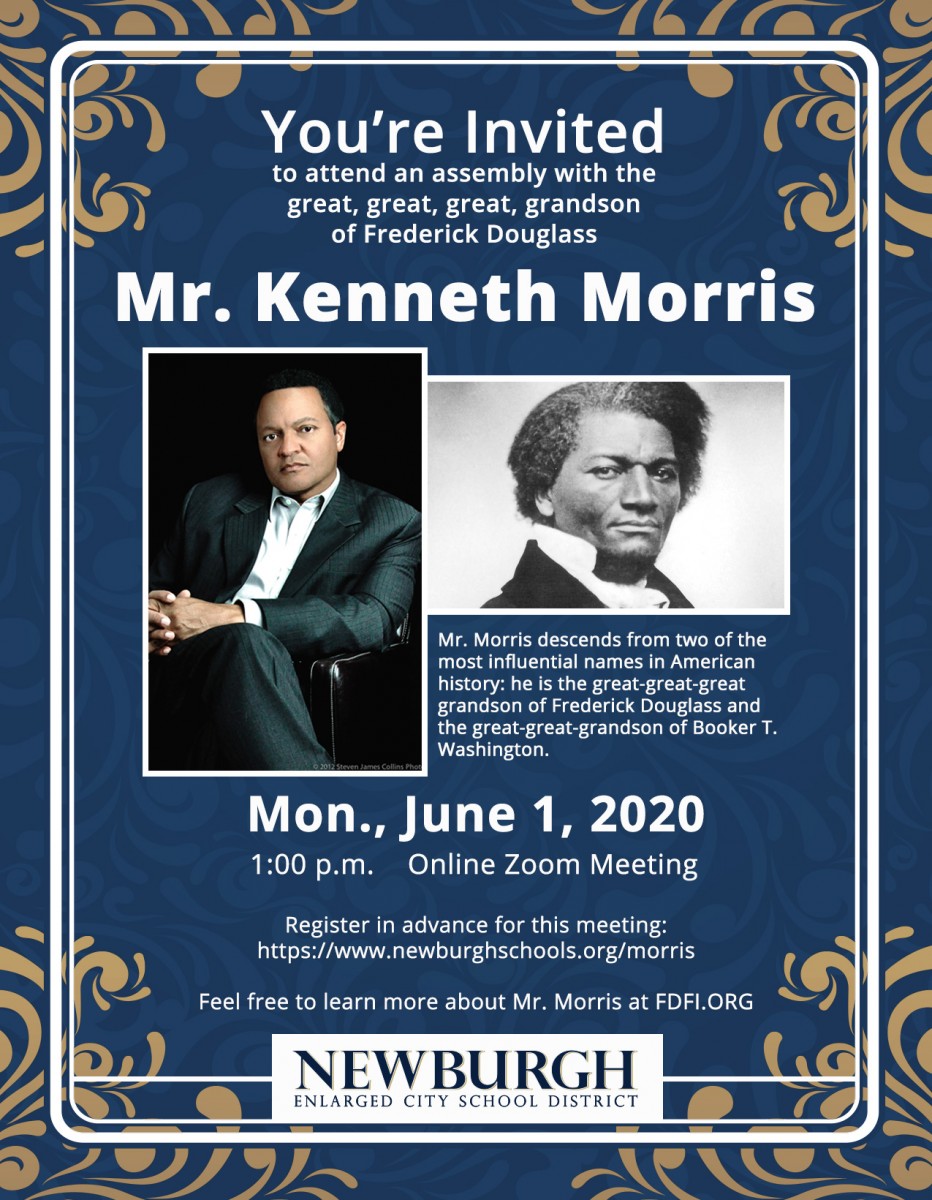 TEACHERS: Are you and your students doing something great? Please contact your Communication Strategist. We'd love to attend or post your pictures and recap to highlight the amazing accomplishments throughout our district! Grades PreK-5 Amanda McDowell (amcdowell@necsd.net) and Grades 6-12 Cassie Sklarz (csklarz@necsd.net).
Date: 2020-05-29 18:22:22