South Middle School Announces 6th Grade Orientation - Register here!
South Middle School 6th Grade Orientation August 26th & 27th, 2019
Location: South Middle School 33-63 Monument Street Newburgh Time: 9:00 - 12:30
Serving Breakfast & Lunch!
Pick up & Drop Off only
REGISTER by clicking HERE
Get to Know SMS!
Arrival/Dismissal Procedures
Team Building
Tour of SMS!
How to read a schedule, progress reports & report cards.
Lock & Locker Practice!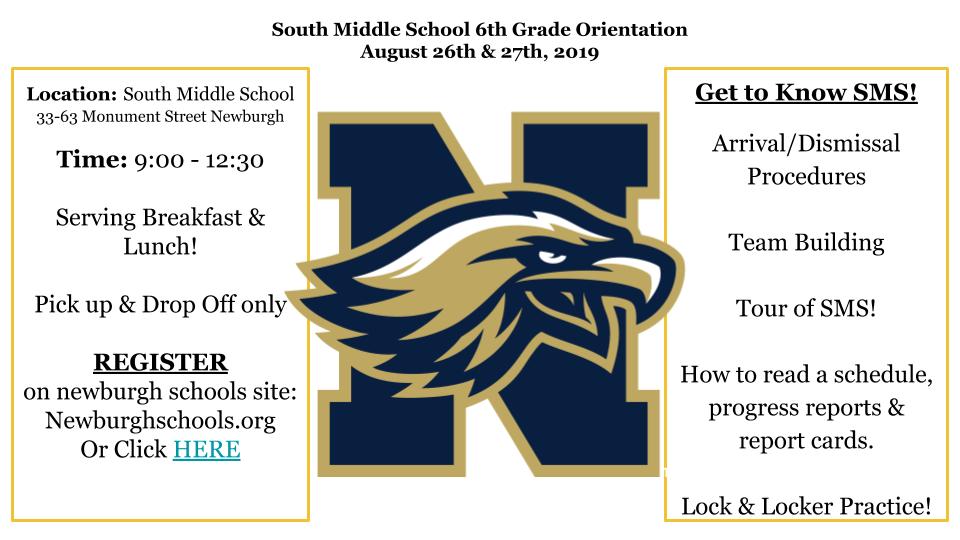 TEACHERS: Are you and your students doing something great? Please contact your Communication Strategist. We'd love to attend or post your pictures and recap to highlight the amazing accomplishments throughout our district! Grades PreK-5 Amanda McDowell (amcdowell@necsd.net) and Grades 6-12 Cassie Sklarz (csklarz@necsd.net).
Date: 2019-08-01 15:39:16