NOTICE: This post is over 180 days old. This information may be outdated if you're looking for new or upcoming information.
25 Students Were Inducted into the Clintonian Society at New Windsor School
On Friday, June 7, 2019, New Windsor School continued its longstanding tradition of inducting students into the Clintonian Society, as well as awarding the Sands Medal.
The Clintonian Society was named in honor of the Clinton family of New Windsor, which dates back to the Revolutionary War era. The purpose of the society has always been to inspire an enthusiasm for lifelong learning while also promoting the ideals of Scholarship, Service, Leadership, Character, and Citizenship within school and throughout students' lives. Students from grades 4 and 5 who are in excellent academic standing and have been exemplars as to the society's ideals are eligible for induction. They participate in a formal ceremony carried out by current Clintonian members during which they recite the pledge in promise to uphold the ideals of the society. This year we were honored to induct 25 students.
The Sands Medal awards were created by Abraham Sands in memory of his father Nathaniel more than 150 years ago. Each medal shows the likeness of Nathaniel Sands on one side and the student's name engraved on the other with the motto "Perseverentia Omnia Vincit" which means "Perseverance Conquers All." Since its inception, the award has been given in recognition of those students found to be the most deserving in scholarship and behavior.
This year, the Silver award was presented to Douglas Bell and the Bronze medal was presented to Dayanara Alejos.
At the conclusion of the ceremony, a small reception was held in our courtyard so that family and friends could offer congratulations and celebrate with our newest Clintonian members. New Windsor School - A Tradition of Academic Excellence!
The 2019 Inductees:
Grade 4:
Geovani Angel
Heidi Barragan
Jurnee Briggs
Amaya Caban
Theodore Campbell
Abraham Cherian
Mia Diaz
Jeff Dong
Joseph Gallagher
Giada Graziano
Charlotte Lofgren
Tabitha McAllister
Marvin Navarro
Pelia Nsiah-Asare
Victoria Pena
Emily Posadas
Edgar Ramirez
Thaniel Robertson
Chris Rosales
Leah Walsh
Grade 5:
Tyler Depauw
Ariana Hernandez
Richard Pagan
Luis Ryder
Jocelyn Vidals
Thank you to the Clintonian Society Faculty Council: Ms. Quinci & Ms. Kennedy
TEACHERS: Are you and your students doing something great? Please contact your Communication Strategist. We'd love to attend or post your pictures and recap to highlight the amazing accomplishments throughout our district! Grades PreK-5 Amanda McDowell (amcdowell@necsd.net) and Grades 6-12 Cassie Sklarz (csklarz@necsd.net).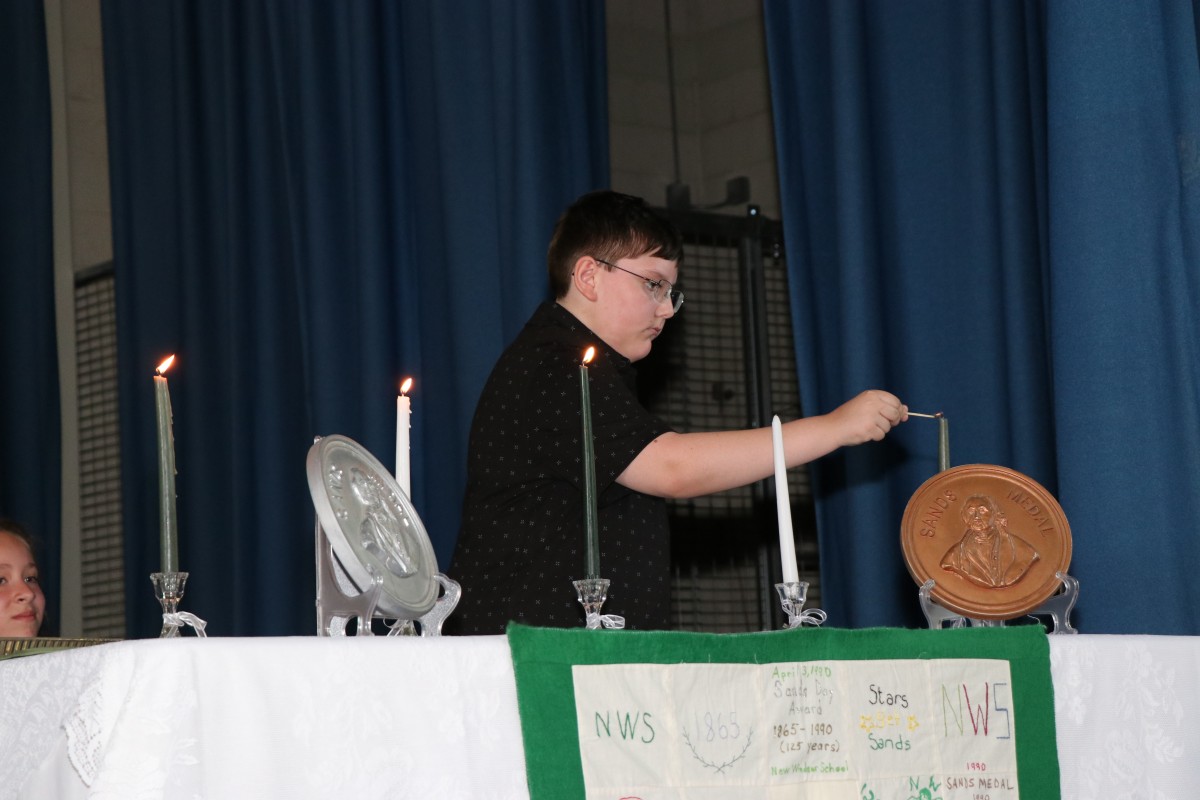 Date: 2019-06-12 12:18:20