Balmville Elementary School Teacher, Kristine Campbell-Defoe, Has Been Invited to Teach from New Zealand for 4 Days in May
Kristine Campbell-Defoe, who has been a teacher at Balmville Elementary School for 21 years, was invited to travel to Nelson, New Zealand by a former Balmville School family who are currently living there. They invited Ms. Campbell-Defoe to visit and she decided that while there she would plan to teach 4 lessons remotely for a week, live-streaming using Google Meet back to Newburgh from 9,040 miles away. Lessons will occur in the afternoons of May 20,22,23,24, 2019. There will be 6 American students traveling with her (3 current Newburgh students, and her own 3.)
On Day 1, Ms. Campbell-Defoe and students will be visiting New Zealand's Parliament Select Committee Room in Wellington, where they will be working with the Parliament Education Director to live-stream, using Google Meet, with Balmville School students in grades 3-5. There will be members of Parliament there for a student led Q&A session and students will also meet with Prime Minister Jacinda Ardern.
Days 2-4 Ms. Campbell-Defoe and students will be live-streaming from Griffin's Elementary School in the town of Nelson, taking a field trip with ornithologist Doug Robinson, who is working to save native birds from an invasive weasel, and taking a tour of the Nelson Provincial Museum.
Balmville students have already begun to create grade level projects to share with the students at Griffin's Elementary School in New Zealand. Balmville fifth-graders are making a video and classes are creating a quilt for Ms. Campbell-Defoe to bring with her that highlights Newburgh's historical, cultural, and geographical uniqueness. Additional projects include storytelling, singing and sharing American songs.
"I feel like there's a mission of connecting people around the world. We're all the same. It's good to know other cultures and to see how other people in different parts of the world go to school and spend their days. This mission is also aligned to our mantra of "We Are One." - Ms. Campbell-Defoe
Photo: Ms. Kristine Campbell-Defoe with two of her children.
TEACHERS: Are you and your students doing something great? Please contact your Communication Strategist. We'd love to attend or post your pictures and recap to highlight the amazing accomplishments throughout our district! Grades PreK-5 Amanda McDowell (amcdowell@necsd.net) and Grades 6-12 Cassie Sklarz (csklarz@necsd.net).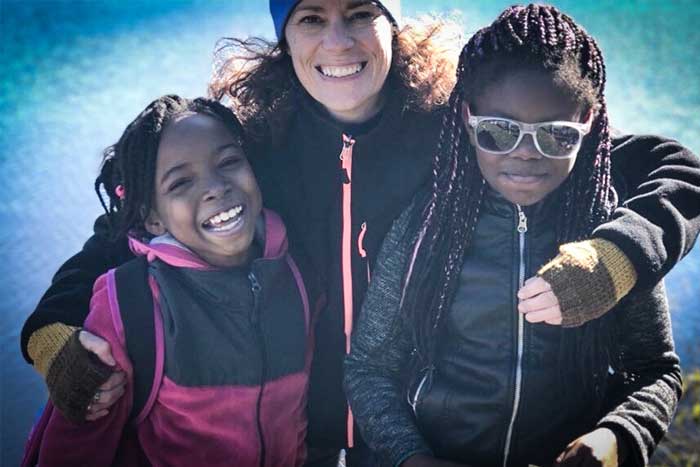 Date: 2019-05-03 11:30:45