Fostertown ETC Bee - Volume 3/March 2019
Click Here for VOL 3 - March 2019
Volume 3 topics:
The Power of Cats by Meriem
Popular Footwear by Amirah
Dr. Seuss by Roman
St. Patrick's Day by Ryan
Interview with Mrs. Lehman by Divine
All about Austria by Roman
Crimes of Grindelwald Movie Review by Jayde
LOL Corner by Divine
Leprechaun Traps by Dharma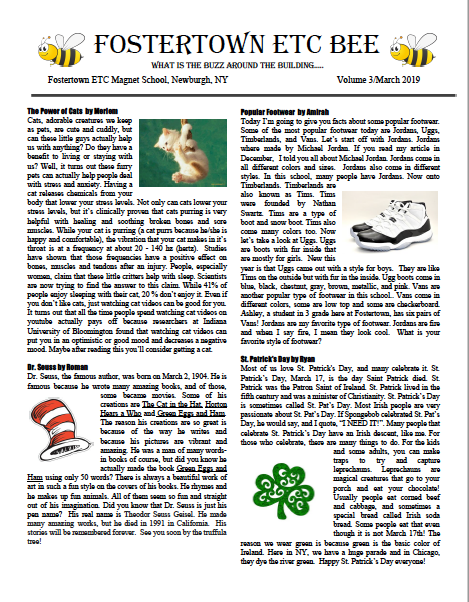 TEACHERS: Are you and your students doing something great? Please contact your Communication Strategist. We'd love to attend or post your pictures and recap to highlight the amazing accomplishments throughout our district! Grades PreK-5 Amanda McDowell (amcdowell@necsd.net) and Grades 6-12 Cassie Sklarz (csklarz@necsd.net).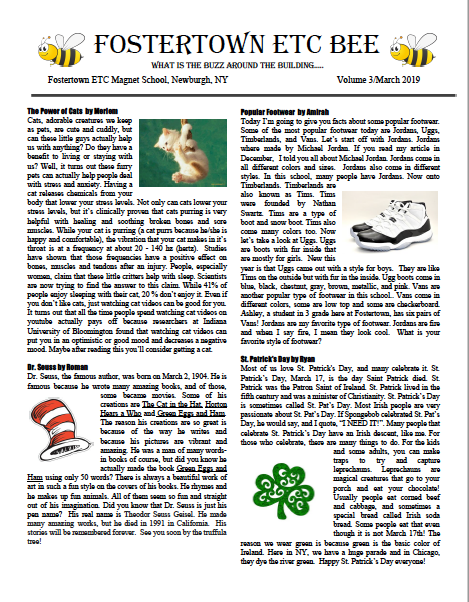 Date: 2019-03-26 14:22:01