NOTICE: This post is over 180 days old. This information may be outdated if you're looking for new or upcoming information.
Four NFA Alumni Graduate From The Orange County Police Chief's Academy
Four alumni from Newburgh Free Academy's Security and Law Academy pathway recently graduated from The Orange County Police Chief's Academy. The Ceremony was held at the Paramount Theater on Friday March 15, 2019.
More about the pathway: Criminal Justice & Security and Law: Students will explore the law and its practice in FOUR areas; Law Enforcement, Corrections, Courts, and Security. Students will receive training and instruction in real life practical skills, and prepare students for college and career opportunities within the field.

Students will participate in a mentoring program, with law enforcement and security professionals.

Students who complete the Criminal Justice Pathway will receive a New York State Security Guard certification.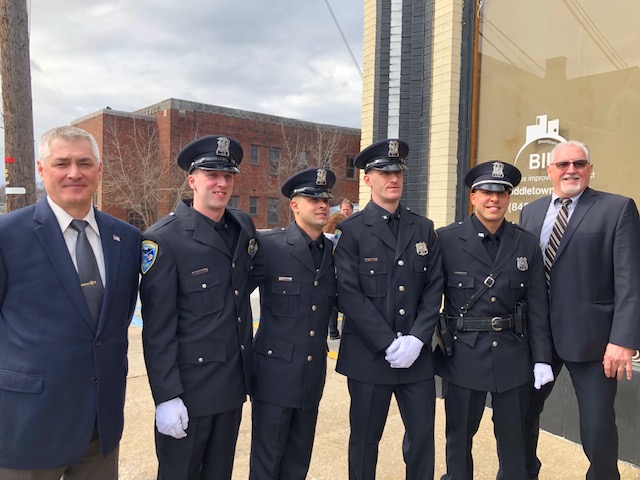 From left to right; Mr. Timothy Toomey Emergency Management/ Law Instructor,
Ronald Danza, D. J .Romano, Michael Toomey (son of Mr. Toomey), Tyler Prokosh, and Mr. Michael Truncale NFA North Security and Law Instructor.
TEACHERS: Are you and your students doing something great? Please contact your Communication Strategist. We'd love to attend or post your pictures and recap to highlight the amazing accomplishments throughout our district! Grades PreK-5 Amanda McDowell (amcdowell@necsd.net) and Grades 6-12 Cassie Sklarz (csklarz@necsd.net).
Date: 2019-03-25 09:53:32