NOTICE: This post is over 180 days old. This information may be outdated if you're looking for new or upcoming information.
6th Annual LGBTQ Youth Conference: Human Rights and Safety in this World
Organized & hosted by the students of PRISM, the Gay Straight Alliance of Newburgh Free Academy, the 6th Annual LGBTQ Youth Conference will focus on Human Rights and Safety in this World. The conference will include speakers and workshops with: Ron Zacchi from Governor Cuomo's office, Farrell Brenner of LGBTQ Center, Randy Florke, Jacinta Stewart, Neelu Pathiyil from Legal Services of the Hudson Valley, Shanique Alladen, & Kayla McGlone. Topics to be covered will include Federal and State legal protections for LGBTQ, Bullying, Safe Protesting and much more!
All Gay Straight Alliances, allies, students, parents & community members are welcome to attend! We'll have guest speakers, interactive workshops, and a networking event where you can enjoy a light dinner and socialize.
THURSDAY, APR IL 4TH, 2019
Newburgh Free Academy, Main Campus
201 Fullerton Avenue
Registration at 3:00 p.m.- Conference starts at 3:30 p.m. and ends at 7:45 p.m. Networking & Celebration Included
RSVP to Jillian Braime at 845.341.1173 ext. 311 or jbraime@jfsorange.org
NECSD Community RSVP: Amanda O'Neill at 845.563.5529 or aoneill@necsd.net
There is no charge for this event!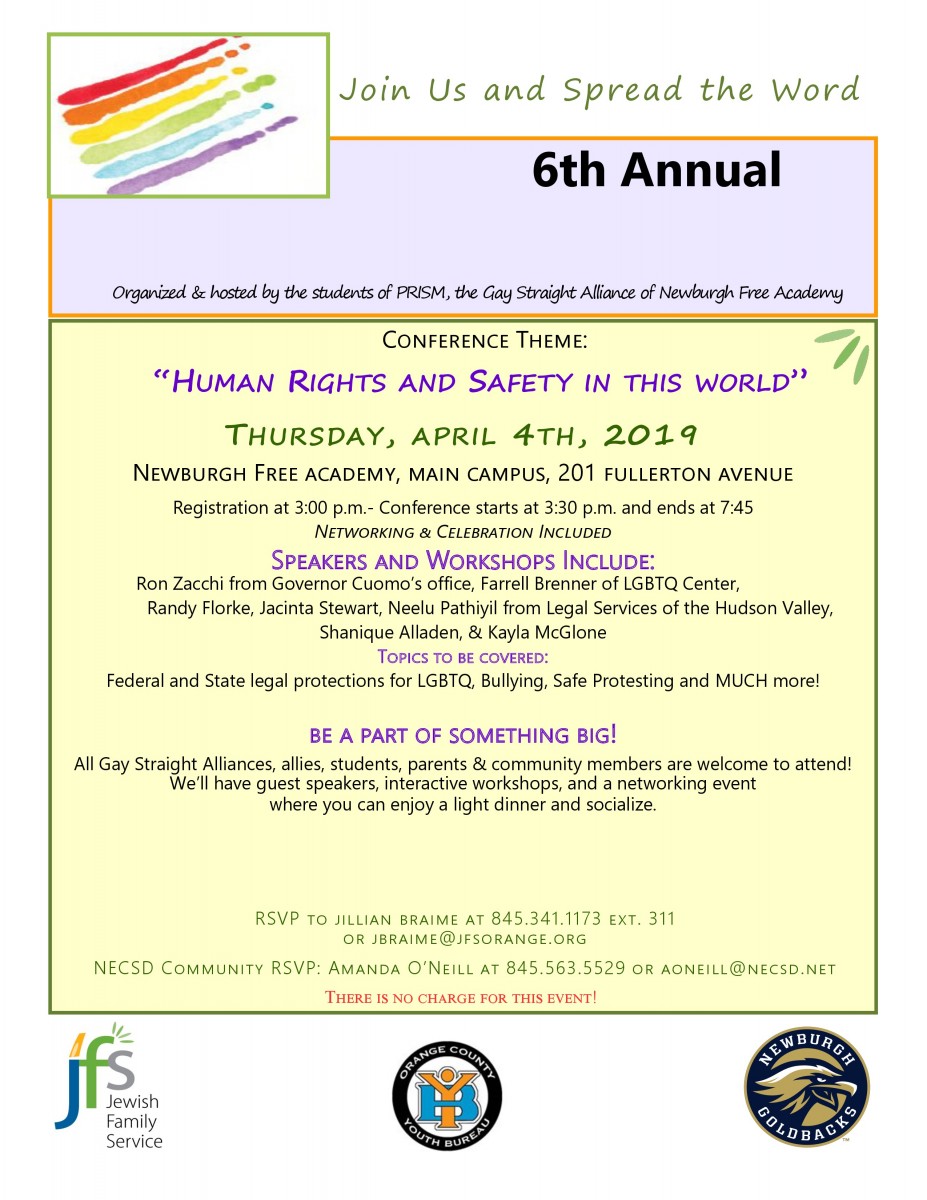 ATTENTION: Are your scholars or colleagues doing something great? Please contact the district Communications Team at communications@necsd.net. We'd love to visit your class or event and/or post your pictures and recap to highlight the amazing accomplishments throughout our district!
Date: 2019-03-25 03:31:52 AM