NOTICE: This post is over 180 days old. This information may be outdated if you're looking for new or upcoming information.
Goldbacks in the News! NFA JV Boys Basketball Team Plays with Heart
Take a moment to read the full article here.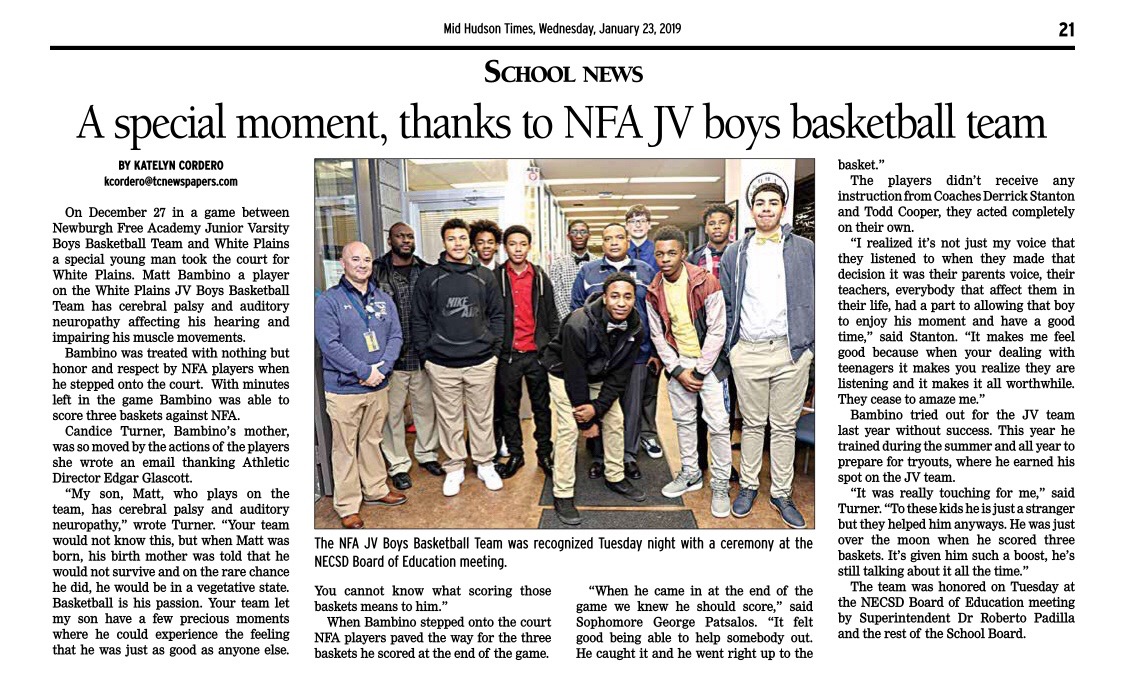 On December 27 in a game between Newburgh Free Academy Junior Varsity Boys Basketball Team and White Plains a special young man took the court for White Plains. Matt Bambino a player on the White Plains JV Boys Basketball Team has cerebral palsy and auditory neuropathy affecting his hearing and impairing his muscle movements.
Bambino was treated with nothing but honor and respect by NFA players when he stepped onto the court. With minutes left in the game Bambino was able to score three baskets against NFA.
Candice Turner, Bambino's mother, was so moved by the actions of the players she wrote an email thanking Athletic Director Edgar Glascott.
"My son, Matt, who plays on the team, has cerebral palsy and auditory neuropathy," wrote Turner. "Your team would not know this, but when Matt was born, his birth mother was told that he would not survive and on the rare chance he did, he would be in a vegetative state. Basketball is his passion. Your team let my son have a few precious moments where he could experience the feeling that he was just as good as anyone else. You cannot know what scoring those baskets means to him."
When Bambino stepped onto the court NFA players paved the way for the three baskets he scored at the end of the game.
"When he came in at the end of the game we knew he should score," said Sophomore George Patsalos. "It felt good being able to help somebody out. He caught it and he went right up to the basket."
The players didn't receive any instruction from Coaches Derrick Stanton and Todd Cooper, they acted completely on their own.
"I realized it's not just my voice that they listened to when they made that decision it was their parents voice, their teachers, everybody that affect them in their life, had a part to allowing that boy to enjoy his moment and have a good time," said Stanton. "It makes me feel good because when your dealing with teenagers it makes you realize they are listening and it makes it all worthwhile. They cease to amaze me."
Bambino tried out for the JV team last year without success. This year he trained during the summer and all year to prepare for tryouts, where he earned his spot on the JV team.
"It was really touching for me," said Turner. "To these kids he is just a stranger but they helped him anyways. He was just over the moon when he scored three baskets. It's given him such a boost, he's still talking about it all the time."
The team was honored on Tuesday at the NECSD Board of Education meeting by Superintendent Dr Roberto Padilla and the rest of the School Board.
ATTENTION: Are your scholars or colleagues doing something great? Please contact the district Communications Team at communications@necsd.net. We'd love to visit your class or event and/or post your pictures and recap to highlight the amazing accomplishments throughout our district!
Date: 2019-02-05 06:11:50 AM