NOTICE: This post is over 180 days old. This information may be outdated if you're looking for new or upcoming information.
Two More Graduates of NFA P-TECH Receive Job Offers from IBM
Danis Jhammat and Vincent Lacertosa, graduates of the inaugural class of NFA P-TECH will join two fellow graduates with a job at IBM this January. NFA P-TECHs inaugural graduating class celebrated 17 high school graduates who simultaneously earned their associates degree from SUNY Orange last year. Both scholars graduated high school in June 2018 and continued the completion of their associates degree from SUNY Orange. Danis completed this associates degree in Cyber Security in December 2018 and Vincent will be graduating this May 2019 with an associates degree in Applied Computer Science and Networking. The NFA P-TECH program is designed to support scholars within that program to complete their high school diploma and their associates degree from SUNY Orange within six years at no cost.
Both Danis and Vincent will begin working as Mainframe System Verification Tester Apprentices at IBM in Poughkeepsie at the end of January.
The graduates join two fellow members of NFA P-TECH, Suriana Rodriguez and Jose Cuacuas, who have been working at IBM since August.
During their time at NFA P-TECH, each scholar took advantage of their mentors and held internships during the summer. Danis was mentored by Mr. Rob Miller, IBM and held an internship with the Product Engineering Team. Vincent was mentored by Mr. Dan McCartney, IBM and held two internships with different departments within Mechanical Engineering System.

"For now, I'm trying to get enough experience and to take full advantage of being ahead of my peers. Longer term, I am looking into entering a bachelor's degree program focusing on a technology field." Danis Jhammat

"P-TECH really pushed me to my fullest potential in high school. When things were a struggle, the teachers who supported me pushed me to the next level to be the best I could be. I learned valuable lessons and had different experiences because of the teachers. The most valuable lesson I learned was that failure is acceptable, but not trying is never acceptable." Danis Jhammat

"P-TECH did everything for me really. I wouldn't have sat here in 10th grade and thought about working at IBM. They put the track up for you to follow up and slowly they take away some of the supports. Those supports and resources are still available, but it's in your own hands to take advantage of them. After going to class at SUNY Orange, I always knew I could come back to NFA for extra help, but it was up to me to do that. That's what makes or breaks P-TECH students is the amount that you decide to use the support - because it's definitely there." Vincent Lacertosa

"In general, Newburgh as a whole has great programs. My sister took advantage of the culinary program and was very successful when she went to the Culinary Institute of America right after high school. P-TECH, if you're interested in this field, is one of the best programs that NFA offers. Having the same teachers throughout high school really helped build relationships and helped me to feel comfortable going to my teachers whenever I needed help." Vincent Lacertosa


ATTENTION: Are your scholars or colleagues doing something great? Please contact the district Communications Team at communications@necsd.net. We'd love to visit your class or event and/or post your pictures and recap to highlight the amazing accomplishments throughout our district!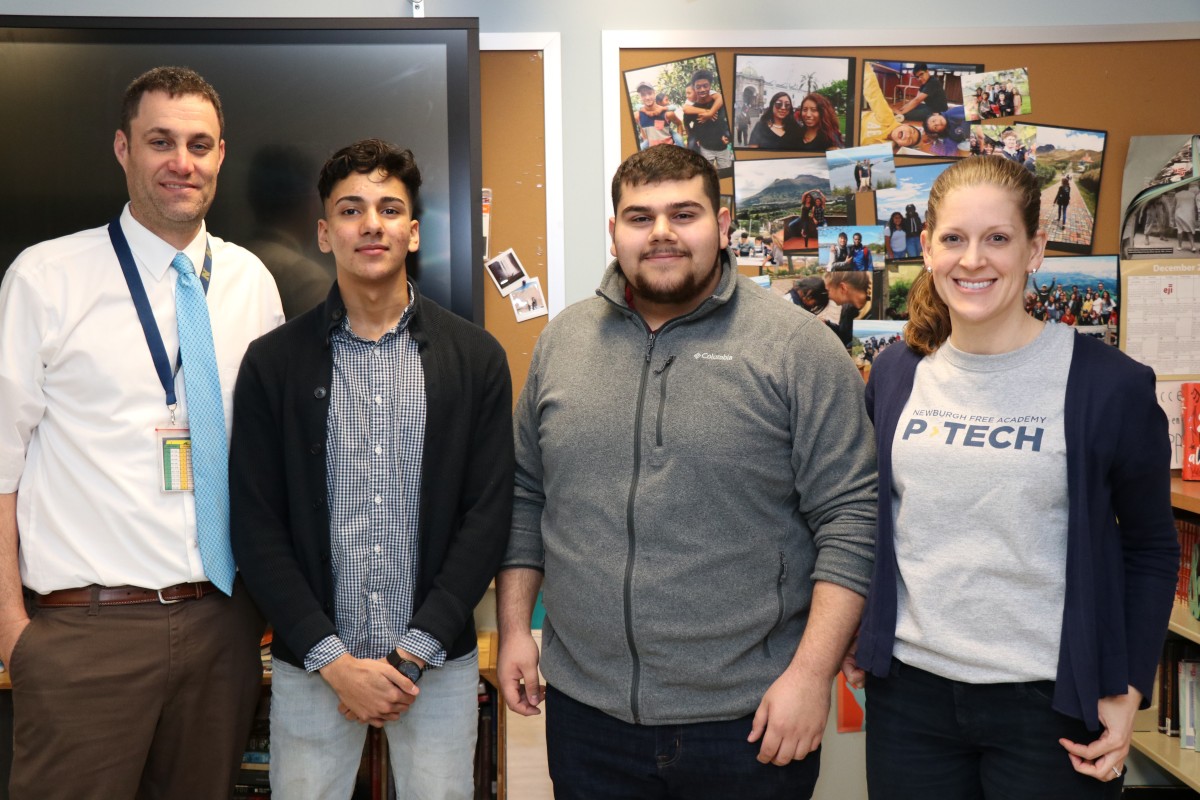 Date: 2019-01-22 04:42:19 AM