NOTICE: This post is over 180 days old. This information may be outdated if you're looking for new or upcoming information.
NFA Main Teacher Welcomed to 2018 Cohort of SUNY's Master Teacher Program
Ms. Keri Spencer, math teacher at Newburgh Free Academy's Main Campus has been welcomed into the 2018 cohort of SUNY's Master Teacher Program. Responding to the call to strengthen our nation's K-12 STEM education, Governor Andrew M. Cuomo launched the New York State Master Teacher Program (NYSMTP) in partnership with The State University of New York and Math for America. The NYSMTP celebrates the work of the highest-performing STEM teachers by establishing an expert community dedicated to developing expertise in the areas of content, pedagogy, and students' families and communities.
Ms. Spencer has committed to four years of the program which includes at least 50 hours of workshops and professional development throughout each of those years. To qualify, Ms. Spencer was required to pass an exam and went through an interview process.

"I am in my 12th year of teaching and wanted to challenge myself to grow more. I realize what I want to improve about myself and I don't want to stay stagnant or plateau." Ms. Keri Spencer

Ms. Spencer discussed researching ideas for lessons, trying them out in classrooms, and then coming back to discuss and adjust with fellow Master Teachers.

Ms. Spencer has been teaching Algebra and Geometry at Newburgh Free Academy's Main Campus for the last 11 years. Her teaching certifications cover a wide range, including infants to 12th graders with certifications in Mathematics, Students with Disabilities, Childhood Education, and Literacy. Ms. Spencer has always wanted a career in teaching. Her love of learning and the school environment, along with a strong desire to help students believe in themselves were the driving factors in working towards this dream. She strives to make math approachable for all students and does her best to make her lessons interactive. Ms. Spencer is active in NFA and the surrounding community by being part of her school's leadership team and New Teacher Mentoring Program. Ms. Spencer helped organize and execute Newburgh Free Academy's first Math Career Day and she participates in NFA's Adopt-a-Grad program each year. She also works with students after school and on the weekends at the local library. As a NYS Master Teacher, Ms. Spencer looks forward to collaborating with and learning from other teachers in the program. She is excited to strengthen her own teaching practices

Ms. Spencer joins four fellow Master Teachers from the Newburgh Enlarged City School District:
Susan Arduino, Newburgh Free Academy's Main Campus
Natalie Morales, Master Teacher Emeritus, Newburgh Free Academy's Main Campus
Aileen Toback, Master Teacher Emeritus, Heritage Middle School
Juan Urena, Master Teacher Emeritus, Heritage Middle School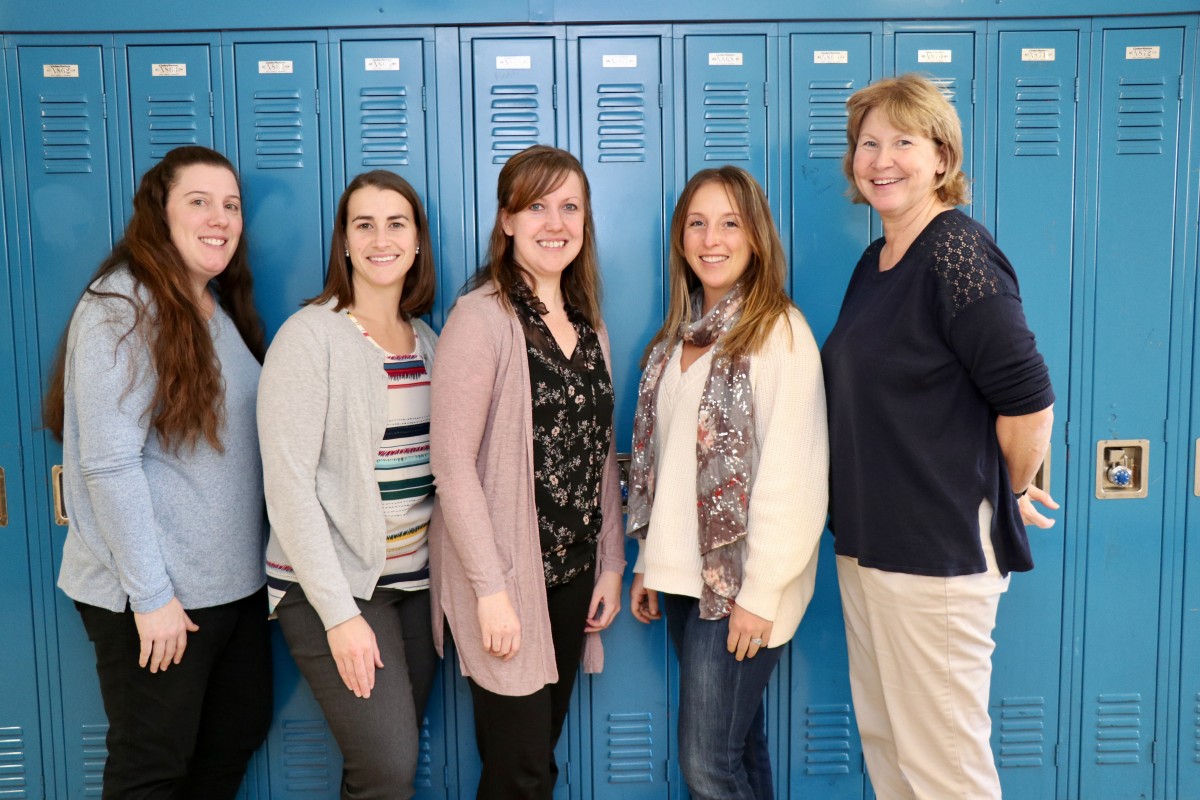 The photo is of Ms. Keri Spencer and her colleagues in the math department at Newburgh Free Academy's Main Campus. From left to right: Ms. Christine Alhona, Mrs. Mary Sinnott, Ms. Keri Spencer, Ms. Melissa Sebeth, and Ms. Linda Winchell.
ATTENTION: Are your scholars or colleagues doing something great? Please contact the district Communications Strategist, Cassie Sklarz (csklarz@necsd.net). We'd love to visit your class or event and/or post your pictures and recap to highlight the amazing accomplishments throughout our district!
Date: 2018-12-21 14:54:39