College Fair Night and College Information Panels - March 27-28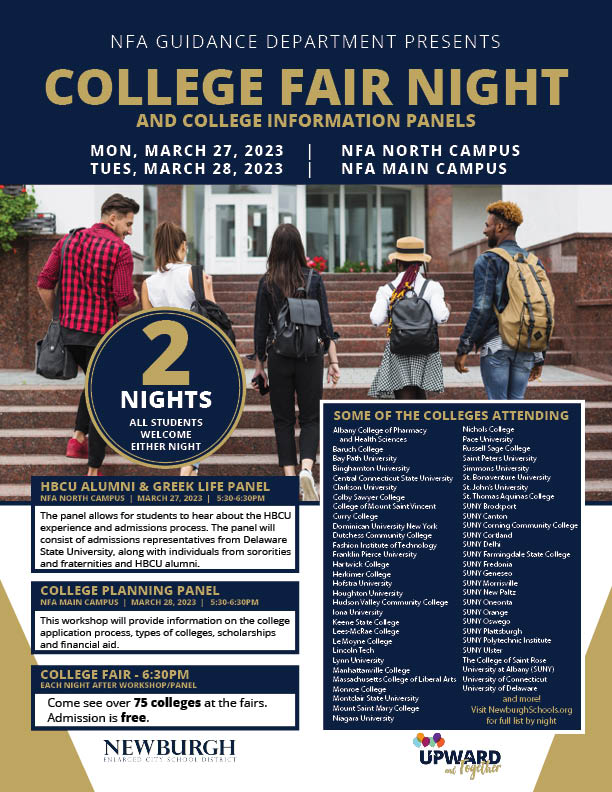 NFA GUIDANCE DEPARTMENT PRESENTS
COLLEGE FAIR NIGHT
AND COLLEGE INFORMATION PANELS
Monday, March 27, 2023 at NFA North Campus | Tuesday, March 28, 2023 at NFA Main Campus
HBCU ALUMNI & GREEK LIFE PANEL
NFA North Campus |
March 27, 2023 5:30PM-6:30PM
The panel allows for students to hear about the HBCU experience and admissions process. The panel will consist of admissions representatives from Delaware State University, along with individuals from sororities and fraternities and HBCU alumni.
COLLEGE PLANNING PANEL
NFA Main Campus |
March 28, 2023 5:30PM-6:30PM
This workshop will provide information on the college application process, types of colleges, scholarships
and financial aid.
COLLEGE FAIR
March 27 @ NFA North Campus
March 28 @ NFA Main Campus

EACH NIGHT AFTER THE PANELS
6:30PM
Come see over 75 colleges at the fairs. Admission is free.
NFA North College Fair - March 27, 2023
Albany College of Pharmacy and Health Sciences
Binghamton University
Central Connecticut State University
Clarkson University
Colby Sawyer College
College of Mount Saint Vincent
Curry College
Dominican University New York
Dutchess Community College
Fashion Institute of Technology
Franklin Pierce University
Hartwick College
Herkimer College
Hofstra University
Houghton University
Hudson Valley Community College
Iona University
Keene State College
Lees-McRae College
Lynn University
Massachusetts College of Liberal Arts
Montclair State University
Mount Saint Mary College
Niagara University
Nichols College
Nova Southeastern University
Pace University
Ramapo College of NJ
Russell Sage College
Saint Peters University
Simmons University
St. Bonaventure University
St. John's University
St. Thomas Aquinas College
SUNY Brockport
SUNY Canton
SUNY Cobleskill College of Agriculture and Technology
SUNY Corning Community College
SUNY Cortland
SUNY Delhi
SUNY Farmingdale State College
SUNY Fredonia
SUNY Geneseo
SUNY Mohawk Valley Community College
SUNY Morrisville
SUNY New Paltz
SUNY Oneonta
SUNY Orange - Orange County Community College
SUNY Oswego
SUNY Plattsburgh
SUNY Polytechnic Institute
SUNY Rockland Community College
SUNY Ulster
The College of Saint Rose
University at Albany (SUNY)
University of Connecticut
University of Delaware
University of Hartford
University of New England
University of New Haven
University of Rhode Island
University of Tampa
Utica University
Wells College
Western Connecticut State University
NFA Main Campus College Fair - March 28, 2023
Albany College of Pharmacy and Health Sciences
Baruch College
Bay Path University
Binghamton University
Central Connecticut State University
Clarkson University
Colby Sawyer College
College of Mount Saint Vincent
Curry College
Dominican University New York
Dutchess Community College
Fashion Institute of Technology
Franklin Pierce University
Hartwick College
Herkimer College
Hofstra University
Houghton University
Hudson Valley Community College
Iona University
Keene State College
Lees-McRae College
Le Moyne College
Lincoln Tech
Lynn University
Manhattanville College
Massachusetts College of Liberal Arts
Monroe College
Montclair State University
Mount Saint Mary College
Niagara University
Nichols College
Nova Southeastern University
Pace University
Ramapo College of NJ
Ringling College of Art and Design
Russell Sage College
Saint Peters University
St. Bonaventure University
St. John's University
St. Thomas Aquinas College
SUNY Brockport
SUNY Canton
SUNY Cobleskill College of Agriculture and Technology
SUNY Corning Community College
SUNY Cortland
SUNY Delhi
SUNY Farmingdale State College
SUNY Fredonia
SUNY Geneseo
SUNY Mohawk Valley Community College
SUNY Morrisville
SUNY New Paltz
SUNY Oneonta
SUNY Orange - Orange County Community College
SUNY Oswego
SUNY Plattsburgh
SUNY Polytechnic Institute
SUNY Rockland Community College
SUNY Ulster
The College of Saint Rose
University at Albany (SUNY)
University of Delaware
University of Hartford
University of New England
University of New Haven
University of Rhode Island
University of Tampa
Utica University
Wells College
Western Connecticut State University
Date: 2023-03-27 14:36:30