Principal's Page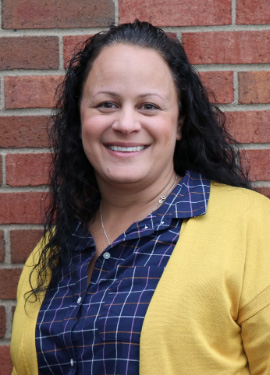 Dear Parents/Guardians and Students,
I would like to take this opportunity to introduce myself as your new principal here at Horizons-on-the-Hudson Magnet School and let you know how deeply honored I am to begin this journey.
I am entering my 23rd year in education. I have been a teacher at both the elementary and secondary level, a literacy coach and an assistant principal for 9 years. I started my career in the South Bronx teaching 5th grade. I then went on to join the Jersey City Public Schools system teaching 1st, 4th, 6th and 8th grades before becoming a literacy coach and then an assistant principal. I worked as an Assistant Principal at Christa McAuliffe School, which was a pre-K-8 award winning school. In 2019, I had the privilege to begin working in the Newburgh Enlarged City School District as an Assistant Principal at South Middle School. My past experiences have taught me the importance of shaping a love of learning in our students, maximizing our ability to provide solid learning opportunities through teamwork and collaboration and the key component of building relationships to engage our students and families in the work we do.
I have been spending a great deal of time this summer getting to know everything I can about Horizons-on-the-Hudson and hearing all the wonderful things that happen here with our students and staff. I am ready to get to work and start making memories with all of our students and families. I am eager to meet all of you in the coming months and welcome your children back to school on September 6th. Please feel free to contact me with any questions or concerns. I hope you enjoy the rest of your summer and will see you all very soon.
In Collaboration,
Gillian Matos
Gillian Matos
Principal of Horizons-on-the-Hudson

__________________________________________________________________________________________________________________



Estimados padres, tutores y estudiantes,
Me gustaría aprovechar esta oportunidad para presentarme como su nuevo director aquí en Horizons-on-the-Hudson Magnet School y hacerles saber lo profundamente honrada que me siento de comenzar este viaje.
Estoy entrando en mi año 23 en educación. He sido maestra a nivel de primaria y secundaria, entrenadora de alfabetización y subdirectora durante 9 años. Comencé mi carrera en el sur del Bronx enseñando quinto grado. Luego pasé a unirme al sistema de Escuelas Públicas de la Ciudad de Jersey enseñando los grados 1°, 4°, 6° y 8° antes de convertirme en entrenadora de alfabetización y luego en subdirectora. Trabajé como subdirectora en la Escuela Christa McAuliffe, que fue una escuela premiada de pre-K-8. En 2019, tuve el privilegio de comenzar a trabajar en el Distrito Escolar de la Ciudad Ampliada de Newburgh como subdirectora de la Escuela Secundaria South. Mis experiencias pasadas me han enseñado la importancia de formar un amor por el aprendizaje en nuestros estudiantes, maximizando nuestra capacidad de brindar sólidas oportunidades de aprendizaje a través del trabajo en equipo y la colaboración y el componente clave de construir relaciones para involucrar a nuestros estudiantes y familias en el trabajo que hacemos.
He pasado mucho tiempo este verano conociendo todo lo que puedo sobre Horizons-on-the-Hudson y escuchando todas las cosas maravillosas que suceden aquí con nuestros estudiantes y el personal. Estoy lista para ponerme a trabajar y comenzar a crear recuerdos con todos nuestros estudiantes y familias. Estoy ansiosa por conocerlos a todos en los próximos meses y darles la bienvenida a sus hijos e hijas a la escuela el 6 de Septiembre. No dude en ponerse en contacto conmigo con cualquier pregunta o inquietud. Espero que disfruten el resto de su verano y los veré a todos muy pronto.
En colaboración,
Gillian Matos
Principal of Horizons-on-the-Hudson