Summer Meals Program Begins Next Week at Select Locations!
Our Summer Meal locations begin next week for our community programs! Meals will also be provided to students enrolled in ESY programs.
Children must be present to pick up a meal. Our program is open to all children age 18 or under, no registration required.
Starting Tuesday 7/5:
Newburgh Free Library 9AM-1:30PM
Salvation Army of Newburgh 12PM-1PM
Center for Hope 10:30AM-1:30PM
Starting Wednesday 7/6:
South Middle School 12:30PM-1:30PM
Newburgh Armory Playground 10:30AM-10:50AM
Lake Street Apartments 10:55AM-11:25AM
Starting Monday 7/11:
Chadwick Lake Park 12:00PM-12:30PM (*includes Camp Chadwick)
_______________________________
¡Nuestras ubicaciones de comidas de verano comienzan la próxima semana para nuestros programas comunitarios! También se proporcionarán comidas a los estudiantes inscritos en programas ESY.
Los niños deben estar presentes para recoger una comida. Nuestro programa está abierto a todos los niños menores de 18 años, no es necesario registrarse.
A partir del martes 7/5:
Biblioteca gratuita de Newburgh 9AM-1:30PM
Ejército de Salvación de Newburgh 12PM-1PM
Centro para la Esperanza 10:30AM-1:30PM
A partir del miércoles 7/6:
Escuela secundaria del sur 12:30 p. m.-1:30 p. m.
Patio de recreo de la Armería de Newburgh 10:30 a. m. a 10:50 a. m.
Apartamentos Lake Street 10:55 AM-11:25 AM
A partir del lunes 7/11:
Chadwick Lake Park 12:00 p. m.-12:30 p. m. (*incluye Campamento Chadwick)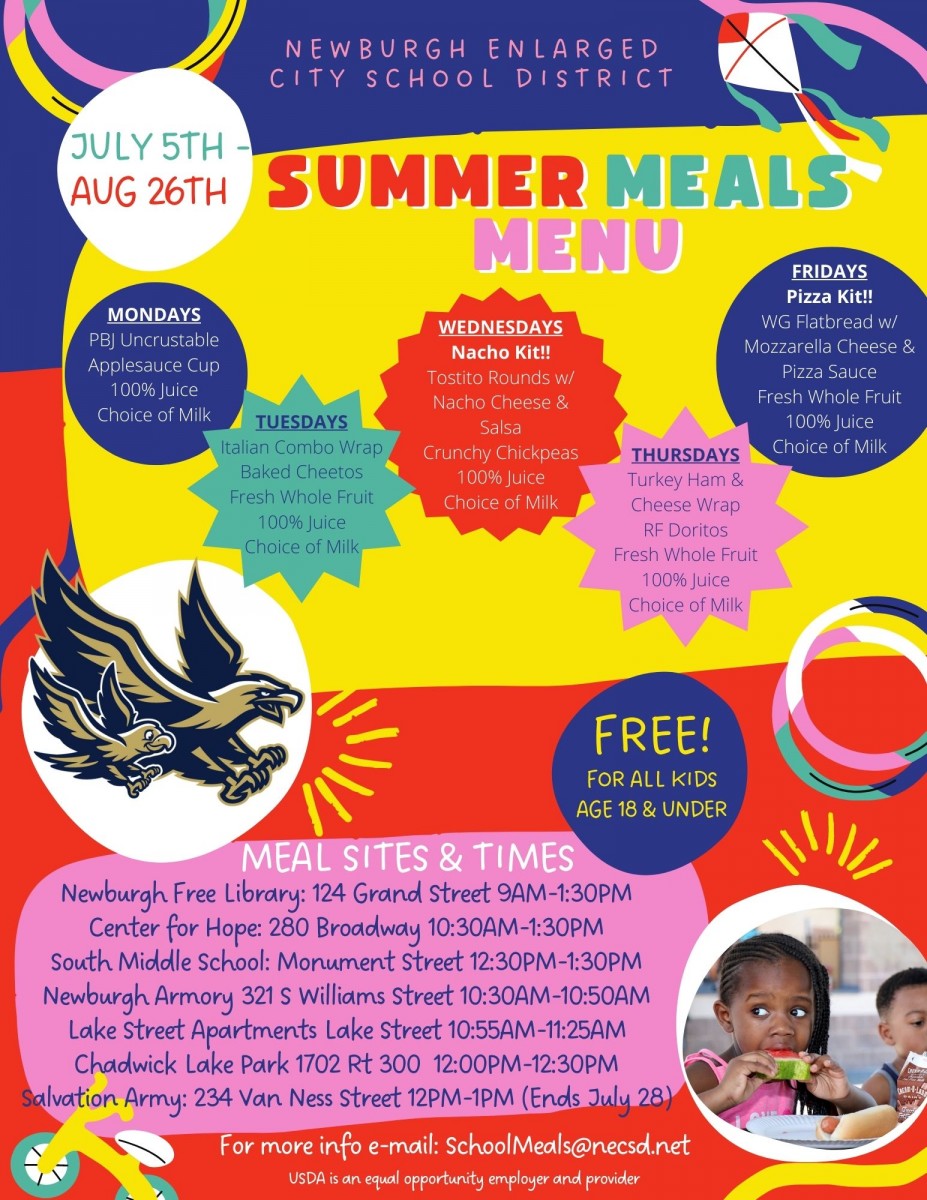 Date: 2022-07-01 19:13:02