The Newburgh Enlarged City School District serves approximately 12,000 students from four neighboring municipalities: the City of Newburgh, the Town of Newburgh, New Windsor, and a small portion of Cornwall. In the district, we inspire our students to be tomorrow's leaders beyond Academy Field. Many of our students, faculty, staff and departments have distinctions that set us apart from other districts in the Hudson Valley and beyond. Points of Pride will focus on these achievements and distinctions.
January 2017 Focus: Exceptional Learners

For the 2016-2017 school year, the department had three areas of focus: Areas of Compliance, Implementation and Monitoring of the New Continuum and Three-Five Year Transition Plan.
For close to 10 years, there have been 21 areas of non-compliance. At the start of the school year, the NECSD had been found compliant in 10 areas and were still noncompliant in 11. As of the last audit on January 5th, the district is down to seven areas of noncompliance. Those seven areas encompass two categories, both of which are being remediated and are expected to come into compliance by the end of the school year.
In the area of compliance, there was improved timeliness for the completion of initial evaluations and re-evaluations. Also improvements were noted in the quality of the writing of Individual Education Programs for students who are 15 years and older and require transition statements to assist students in moving to postsecondary opportunities. In addition, there were improved outcomes on ELA and math assessments.

From the 2014-2015 to 2015-2016 school year, referrals to the Committee on Preschool Education (CPSE) increased from 254 to 324. CSE referrals increased from 203 to 226. The rate of compliance to a 60 day timeline for initial referrals was at 99.4% for CPSE in the 2015-2016 school year and 79.2% for the CSE in 2015-2016 school year. Points of Pride- Exceptional Learners. These numbers both reflect a strong improvement compared to 2014-15.
The department increased ELA and Math scores: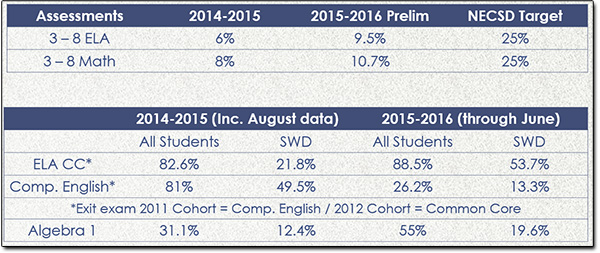 The Exceptional Learners three to five year plan for transformation includes developing behavioral and learning characteristics for each program in the continuum and improving collaboration with community partners to positively impact student learning and achievement.
The department ensured the full continuum is arranged in a geographically equitable fashion, so parents and guardians can have school choice and are not limited by the recommended IEP programs and services.

Currently in progress, the department is aiming to increase the number of Integrated Co-teaching Programs and ensure they will be available at every grade level in every school.
A work in progress for the department is developing targeted support in the following areas:

Integrated Coteaching
Targeted Reading Supports
Functional Behavioral Assessment and Behavior Improvement Plan Process
Supports for students who exhibit behavior problems with Verbal de-escalation training
Targeted Supports for K-5 Special Class programs

---




---